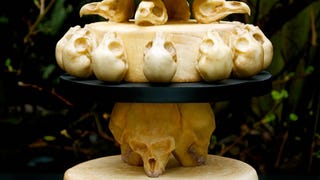 After redditor PoliticalMilkman posted this photo of his cousin's wedding cake yesterday, both other redditors and Neatorama noted that this isn't the first time they've spotted Spider-Man hiding under a wedding cake. Is Spider-Man trying to slip away while the miniature groom is preoccupied? Or will they cut the cake…
If you considered that chicken nugget goop to be an aphrodisiac of the most romantic kind, then start looking up flights to Hong Kong for next year. McDonalds' weddings may be alcohol-free, but at least Ronald will be in attendance.
Pity the poor baker who had to ice USB logos, smiley-emoticons, power symbols, @ signs and all that syntax. Guess it was easier than icing that dead AT-AT, mind. [Wedinator - Thanks, Kate!]
I thought I was ahead of things with my Chocolate Edition Apple Tablet, but Jerry Brito and his iPhone 3G C(ake) beat everything. It looks like the real thing, except for one teensyweensy mistake.
Showing again that Lego dorks can be loved to the point of marriage, reader Clint Cox has sent his cool Lego wedding cake, in which a heroic Lego minifig assaults the castle to rescue the princess from the eeeveel dragon:
Ah, love! It makes you do so many silly things. You know, like marrying. And having an iPhone wedding cake, like Bobby Casey here. Bobby, I hope you had Lego wedding rings too. Or else.