Friction welding already looks out of this world. I mean, watching two pieces of metal forge together through friction as they turn bright space orange? Awesome. But seeing friction welding in slow motion? That's when we find out how truly spectacular the process is. The little sparks flying off the metal blocks look…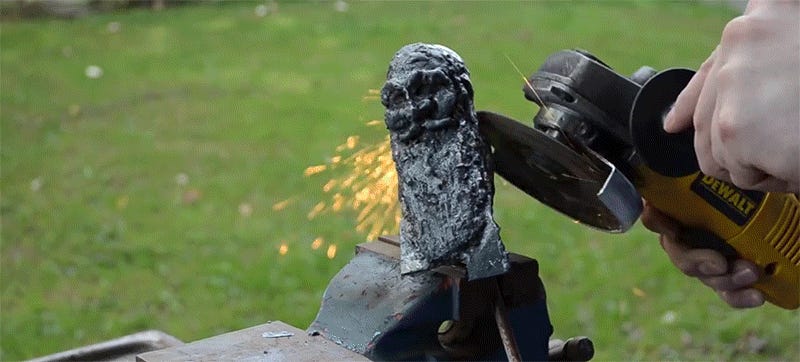 Here's a really lovely process of metal working from Artismia: he melts down these basic metal rods into this metal glob and then stylizes and polishes and shaves down the glob into a beautifully designed door knocker. It's surprisingly fun to see the entire transformation, like making art from nothing.
Me, neither! But Mood Swings, a new exhibition at London's Halcyon Gallery, will be showing off a series of large-scale metalworks—seven gates made from vintage iron scraps, hand-welded by the man himself.
A few weeks ago, a tiny gallery in London was transformed into a scene straight out of the 19th century. Amid piles of sand, a worker donned a silver apron and safety helmet and poured molten hot steel down a track to create long slabs of metal. The man in the apron was Raphael Hefti—not an industrial worker, but an…
Over at Hackaday they've gone a bit fiery destruction crazy, and posted a guide on how to destroy HDDs with thermite—that's the super-high temperature chemical mix used in welding, fireworks, and generalized military destruction. The guide shows how a kilo of burning thermite melts clean through a PC case, hard drive…
The Discovery Power Welder's sales pitch is fantastic, and worrying: "discover the power to make and create with the tool that safely welds plastic to plastic." And sure, the kit comes with specially-crafted parts that'll let your little-ones knock together a plastic dinosaur, plane or car. But what happens then? Do…