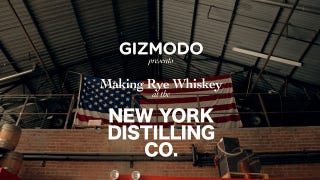 In a 5,000-square foot barn by the Brooklyn-Queens Expressway, the New York Distilling Company is working on some whiskey. One thousand of the barn's square feet belong to a bar, The Shanty, and the remaining 4,000 is a cavernous distillery. Most days, it's a one-man show, with Bill Potter overseeing tanks,…
The American Can Company used to be the single largest producer of tin cans in the country, but the glory days are long gone. The building, in San Francisco's Dogpatch, is part of a neighborhood where sprawling shipyards and industrial complexes have closed up shop, replaced by the likes of the AT&T Ballpark and the…
Thirty feet beneath the hills of Menlo Park, scientists at the Stanford Linear Accelerator have worked for the past half century to alter our fundamental understanding of the universe. The 1.9-mile-long structure, where electrons fly at nearly the speed of light, is reputed to be the straightest object on earth.…
The humble food truck has evolved from a greasy spoon on wheels into a purveyor of sushi, dumplings and over-the-top desserts. The truck's limits were pushed a step further by Jon Darsky—pro baseball scout turned pizza chef—with Del Popolo, a mobile, wood-burning brick pizza oven serving pies on the streets of San…
If you've never seen Reggie Watts perform, head to YouTube first, and then check his website to see where he's playing next. His act is part comedy, part music, almost all of it is completely improvised, and it's absolutely amazing—funny and beautiful all at once. He opened for Conan O'Brien on his U.S. tour, and…
You might not have heard of Ken Murphy, but you are probably familiar with his work. It's awesome. He hacks typical Radio Shack items to create blinking bug sculptures and analog synthesizers that sound like Atari video games.
He once washed dishes full-time in a Connecticut trailer park. Now he uploads videos that break the 5,000,000-view mark in under three weeks. But when Casey Neistat isn't leaping into a sinkhole in Oman or stealing his own bike on the streets of NYC, he's busy working in this obsessively organized, fully functional,…
Like any first year college student, Derek Low wanted to make a name for himself at UC Berkeley. But instead of streaking across the quad during frosh week, he converted his boring dorm room into what he dubbed B.R.A.D.—or the Berkeley Ridiculously Automated Dorm.
Paul McCartney, Bruce Springsteen, and The Foo Fighters have something in common with Brooklyn-based musician Neil Shah—they all made great music in a basic home studio. McCartney and Springsteen had a four-track cassette deck, and Dave Grohl used a garage. But Shah's setup is even more limited—his whole studio…
There's a beer nirvana in Pennsylvania, and it's in a shed. The HammerSmith Ale House and Brewery, a slice of heaven near the Delaware River, was designed by Chris Bowen—a beer enthusiast, beer historian, and certified beer judge. Bowen always loved cooking for friends. Eight years ago, he tried his hand at making…