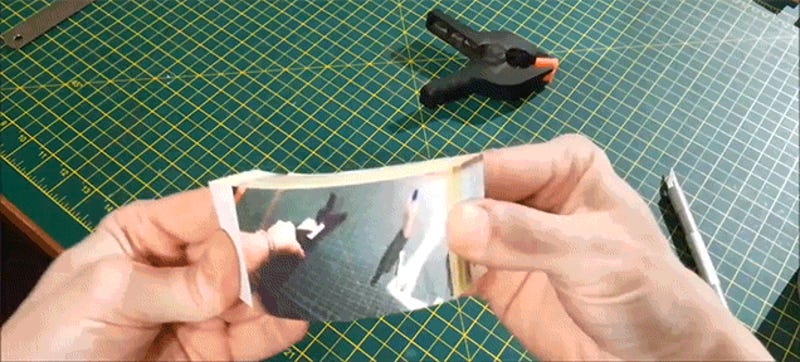 Reddit user Stupot McDoodle made clever software that could turn any GIF into a flip book by turning the frames of a GIF into easy-to-put-together squares that could be printed on paper. It's a fun project—I mean, turning a bit of the internet into a physical object is weird and silly, but what's even more fun is to…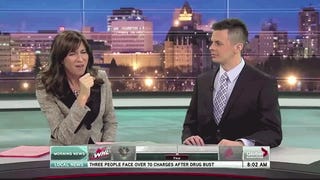 If you think the funniest person in the world in 2013 was Louis C.K. or Aziz Ansari or some other genius laugh out loud comedian, you're probably right. But eventually their shtick will get tiring. It's going to happen. But do you know what never gets old and always stays funny though? Watching the local news screw up…
Our friends at Drunk Jays Fans have unearthed an arrest report written by a Toronto police officer about a fan who ran onto the field at a Blue Jays game on May 5. It is perhaps the best arrest report ever written.
There are a number of facts that headline presupposes, two of which are: a municipality or other official body put together a doggie lineup and that same body was unable to prove beyond a reasonable doubt that the dog identified was responsible for the biting. What follows is the story of Jackie, a sausage of a Jack…
We've covered the text-message-based exploits of Nathan Fielder here before when he told followers to text their parents about drugs. This time the prank is a whole lot more personal and it has a huge cliffhanger element.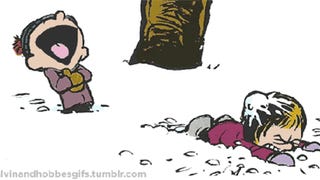 Short of a few seconds of homebrewed animations here and there, we've never seen Calvin and Hobbes animated. That's fine—Bill Watterson's panels are more lifelike than a kabillion hours of most shows—but seeing it done right is enough to make your eyes fall out from happiness.
PBS Newshour has a wonderful new tool that lets you make political ads quickly and easily. Ostensibly, it's to show you how cookie cutter campaign ads are. But in reality? It's a great way to make a dumb video of you being the villain of a political attack ad.
All parents love to take photos of their children, but photographer Jason Lee goes one step further, manipulating photos of his two daughters to create magical scenes. Through the whimsical power of his camera and computer, he transforms the girls into princesses, video game heroes, and other mystical beings.
When Dugan Smith was 10 years old, doctors discovered a tumor "the size of a softball" in his right leg. He had a rare form of cancer, and he'd need an operation to remove it. Instead of choosing a more standard procedure, The Post Game reports this week, Smith opted for a "rotationplasty," because he didn't want to…
Okay, boys and girls: NORAD's got their annual Santa tracking up and running here. Keep tabs on the big guy if you're wondering when he'll be gifting your hemisphere, or if he owes you money. [NORAD Santa Tracker]