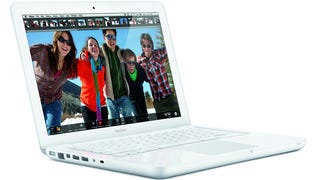 At the center of today's minor product explosion, Apple's refreshed $1000 White MacBook is the only right-fielder: It's got a rubberized bottom, multitouch trackpad, LED backlighting, the MacBook Pro's non-replaceable battery, and healthy spec bumps. UPDATED
I've been assuming for a while now that Apple was close to giving up on the aging polycarbonate MacBooks, but apparently not: AppleInsider's got a source saying that, pending a "industrial design overhaul," they're here to stay.
Ole' Whitey, Apple's last-gen, $999 stalwart, has been treated to a second round of internal upgrades, this time a bit less impressive: a 133MHz processor bump, 40GB more storage and speedier DDR2-6400 RAM. [Apple—Thanks, Richard!]
And lo, the winged horse of the Apocalypse bounded through the sky: Apple is acknowledging the white MacBook's legendary hairline cracks along the bottom enclosure, and will actually fix it, regardless of your warranty.