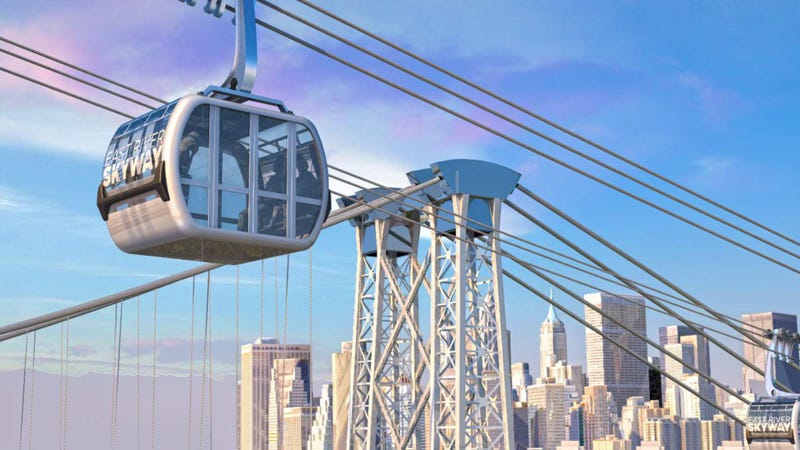 A few years ago, Williamsburg resident and real estate entrepreneur Dan Levy went skiing and marveled at the efficiency of the mountain's new gondola lift. The cabins were so large that he felt like he was on a New York City subway car. And then it dawned on him: Why not build a gondola lift in the city?
Update (2pm 1.13.2015): MTA officials are now saying that L train service between Brooklyn and Manhattan may be down for years, while they repair the Canarsie Tunnel. Suddenly, this gondola plan sounds extra brilliant…
Yesterday's giant fire in Williamsburg, Brooklyn left a paper records warehouse in tatters. While the building is still smoldering away, the New York Fire Department has been showering it with water from all sides. The cold winter air combined with a cascade of fire hose water makes for an icy freeze that is certainly…
Williamsburg is filled with hip restaurants, hip boutiques, hip bars, and hipsters. But if you don't live there, there aren't really any hotel options in the increasingly popular and overpriced Brooklyn neighborhood. Tourists don't want stay in Manhattan and cross the East River for their artisanal cheese needs.…
Open any issue of The New York Times, and you're all but guaranteed to hit a passing reference to the mecca of all things gentrified and hip: Brooklyn, New York. But the real testament to the borough's changing face lies not in trend pieces, but in the nearly unrecognizable streets and buildings themselves.
The Williamsburg Bridge has spanned the East River since 1903, connecting what's now Brooklyn's most notoriously hip(ster) neighborhood to Manhattan. In the 1980s, the bridge was in serious disrepair—and architects wanted to replace it with a mirror-finish masterpiece topped with a restaurant. Imagine the view!
Redesigning New Orleans for flooding, new buildings in Williamsburg that don't suck, and a skyscraper in L.A. that will soon be the tallest west of Chicago. Plus: Google's urban expansion and dying department stores, all in this week's Urban Reads.
At the turn of the 20th century, the moving sidewalk was the future of urban transportation. As much as airplanes soaring in the sky and automobiles rumbling on the streets, the moving sidewalk represented a bold new vision for tomorrow. This idea of rolling pavement appealed to people in major cities who didn't yet…
Another day, another dumb trend piece published in the otherwise fine newspaper The New York Times: apparently, movie theaters are being "reinvented" by hipsters in Williamsburg, the Brooklyn neighborhood which is on itself the epitome of all NYT trends. Thankfully, Hamilton Nolan is here to crush it.