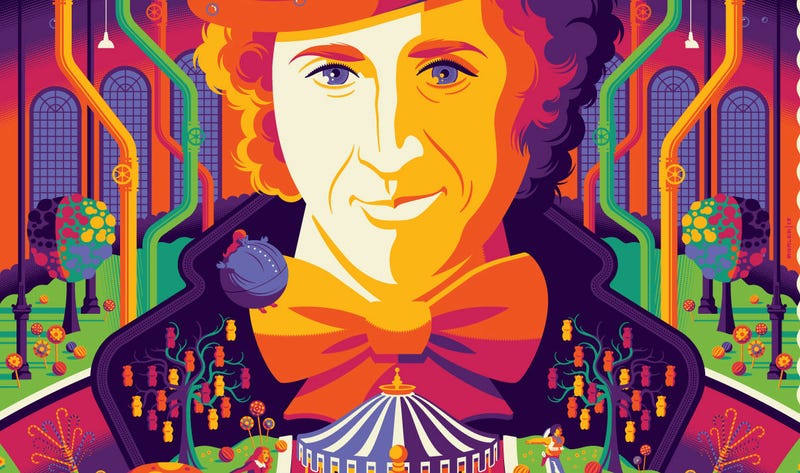 Willy Wonka and the Chocolate Factory is one of the most well-represented movies in pop culture art. The reason being it's such a vibrant, wide-ranging movie, it offers almost innumerable visual interpretations. One such example is this new one by Tom Whalen, which is chock-full of detail and eye-popping brightness.
This week, Tom and Jerry: Willy Wonka and the Chocolate Factory (that movie you had to be convinced actually exists) was released on digital video. On the day of the original film's anniversary, you might be asking: How the hell do a fighting cat and mouse fit into Willy Wonka and the Chocolate Factory? I can tell you…
Hundreds of bats fly to Batman's aid as he valiantly tries to save his love from a deadly poison. The two escape in a rooftop Batmobile car chase and the rest is history. This moment from Christopher Nolan's Batman Begins is a moment I never want to forget. And now, thanks to a new art show, I'll never have to.
The passing of acting icon Gene Wilder this week is still being keenly felt by his legions of fans. This weekend, if you want to honor the legend, you can head to the nearest AMC theater, where two of his most beloved films are being shown once more.

Now that the mouse is converting big chunks of Disneyland and Disney World to ever-profitable Star Wars attractions, the theme park arms race is at all an all-time high. But who wants to drink blue milk at a Star Wars-themed cantina when Universal Studios is building Willy Wonka's freakin' Chocolate Factory.