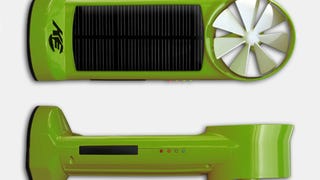 At first sight, this seems like a propeller about to get attached to an airplane engine. I thought the same until I looked closer. Then it blew my mind. Zoom in and discover why.
The U.S. surpassed Germany as the biggest producer of wind power in 2008, I guess proving that its alternative energy efforts haven't just been a load of hot air.
The Army is following the Air Force's green efforts to cut their energy expenditures and, presumably, don't see their weapons budget cut. They will install solar panels and windmills, while investing in bio-fuels and energy conservation in bases all around the country. According to Keith Eastin, assistant Army…
We don't know how much it cost her, but word is that the Queen of England has put down some mega-bucks to buy the world's largest wind turbine. The 10-megawatt monster machine built by Clipper Windpower of Carpinteria, California will have a wingspan larger than two soccer fields and will stand 574 feet tall when…
Standing 6.5 feet tall, the Nendo Kazadokei is a clock with a second hand that measures almost 5 feet on its own. It just stands there, quietly moving its arms, waiting patiently to sever any innocent passerby's head or scoop out an eye from their skull. See it standing up in all its majesty after the jump.

Nobody wants a wind turbine in their backyard, because the things are noisy and kill birds. But now inventors at Stormblade Turbine might have made the windmill a neighborhood-friendly device, solving that noise problem while doubling the efficiency of current turbines. This weird-looking jet engine-on-a-stick is…
N. Satyanarayana, a graduate student in India, has figured out a way to miniaturize a windmill so it can be used to charge a cellphone battery. It is a simple fan blade that is attached to a generator, also it's waterproof so it can even be used in the rain. Imagine clipping one of these babies outside the window as…