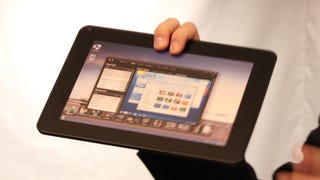 Okay, it's really a sticker on a tablet-shaped piece of plastic. But! It might look like this. Which is kind of like a generic thin(nish) Android tablet. With a Windows 7 sticker.
Would you buy a 10.1-inch tablet, running Windows 7 with mediocre specs? LG's hoping Koreans will, because the tablet's launching there first. Citizens are probably better off waiting for LG's Android tablet, due out in January. [LG via Akihabara News]
According to DigiTimes, MSI is going to be showing off a tablet next month at Computex. What it is: a 10-inch Atom-based system running Windows 7. What it's not: one of the Tegra 2 tablets we've been yearning for.
The Archos 9 Windows 7 touch tablet has made it through its first round of show floor pageantry, briefly falling into the the expectant hands of the guy(s) from ArchosFans. The mildly romantic encounter was captured on video, for posterity.