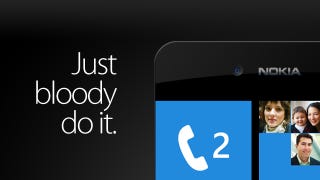 Hello Windows Phone owners! Yes, Windows Phone 7.5—that's the official name now, not Mango—is getting pushed out, starting like, now. But your phone might not get them today. Or this week. Or next week!
"Windows Phone Seven Point Five." It's somehow mind numbing and yet not totally unexpected that chunky string of syllables is how you say the name of the new Windows Phone. Mind numbing, because it's the antithesis of what Microsoft has ultimately built, and not totally unexpected, because we're still talking about…
HTC has done the unthinkable and created a massive phone named Titan. It weighs over a third of a pound, has a gigantic 4.7-inch screen (Christ...), has a 1.5 Ghz processor of some sort, and, yeah, is huge. Bonus: Mango!
Nokia's Stephen Elop (nee Microsoft's Stephen Elop) has been very careful not to say "Windows Phone 7", and just "Windows Phone" when he's talking about the deal between the two companies to manufacture smartphones on the platform. Why? Because Microsoft is going to call their next major update, code-named Mango,…