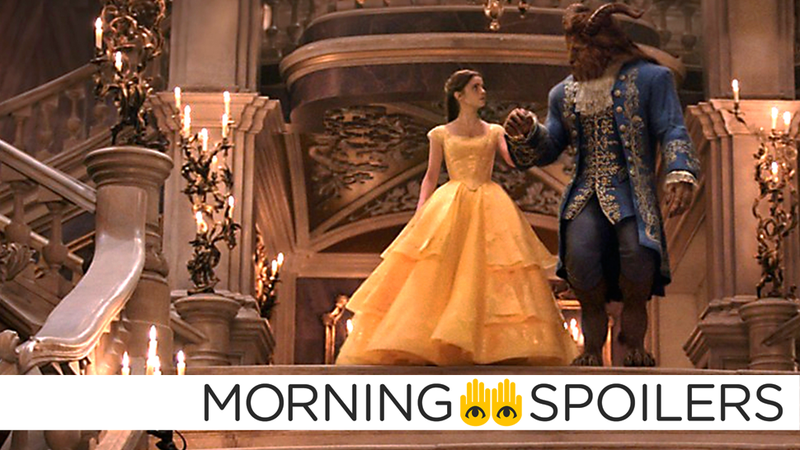 The Terminator franchise might not be as in a dire state as we thought. Woody Harrelson hypes up the Han Solo spinoff. Doctor Who's next season has a big three-parter with some new villains. Plus, speedy set pictures from Black Panther, and a new look at Ward's return on Agents of SHIELD. To me, my spoilers!
Gwendoline Christie compares her Force Awakens character to a beloved Star Wars villain. Mark Ruffalo teases Thor: Ragnarok. Lucy Lawless has a bizarre idea for the Xena reboot. Plus, Gotham casts another comic character, mystery casting for Powers and Twin Peaks, and Steven Moffat on Doctor Who's future. Spoilers Get!
World War Z 2 has a release date of June 9, 2017. That puts it up against the already-announced Fantastic Four 2. Z 2 vs Four 2 — which film is most likely to actually come out on that date? [Deadline]
Read a page from the Hunger Games: Mockingjay script. Check out photos of Arnold Schwarzenegger as an aging T-800 in Terminator: Genesis. Sleepy Hollow gets a new sheriff and a possible new love interest. Check out an Earth to Echo trailer. And a pop star joins the guest cast of Doctor Who. Spoilers now!
There's another new Star Wars casting rumor. Peter Jackson explains why he added elves to The Hobbit, and whether he'll direct an episode of Doctor Who. And Robert Kirkman says you will always know when it's a character's last moment on The Walking Dead. Plus, the first poster from Godzilla. Spoilers now!
According to set reports, one of the most famous bars in the universe is being rebuilt. Paul Giamatti hints the villains of Amazing Spider-Man 2 are part of a larger design. Plus crazy reports on Christopher Nolan's Insterstellar. And updates on Walking Dead, Agents of S.H.I.E.L.D., and Syfy's Legion spin-off …