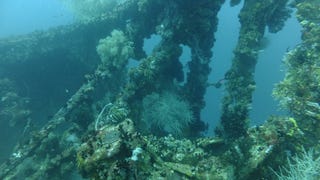 Late last year, the Netherlands defense ministry confirmed that two of its ships lost during World War II had disappeared from the bottom of the Java Sea, likely the result of illegal salvaging. Now, a trio of Japanese shipwrecks off Borneo have likewise been torn apart for scrap, highlighting what appears to be a…
On April 10, 1940, British submarine HMS Tarpon and its crew of 50 were sent to Norway to intercept Nazi merchant vessels. They were was never heard from again. Now, after 76 years, the sub has finally been found. An investigation of the remarkably well preserved vessel shows it didn't go down without a fight.
Underwater salvage company Deep Ocean Search has successfully salvaged the treasure ship SS City of Cairo. Found at a depth of more than 17,000 feet, the ill-fated World War II-era steamship was loaded with 100-tons of silver coins.
The U.S.S. Kailua has been discovered off the coast of Hawaii in 2,000 feet of water. The intact "ghost ship," which sank in 1946 after being used as torpedo practice, is still upright, with its solitary mast still standing and the ship's wheel still in place. From 1923 to the time it sunk, the ship laid countless…
Researchers from the NOAA have discovered two sunken vessels from a Second World War convoy battle about 30 miles off the coast of North Carolina. The German U-boat 576 and a merchant ship, Bluefields, were found just a few hundred yards apart. The find shows just how close the war came to American shores.
We often think of drones as distant hovering sparrows in the sky, buzzing and cooing, firing off the occasional Hellfire missile. But they're enormous flying machines with massive wingspans. And when they crash, they sure leave a giant flaming mark.
It's sweet, sweet vindication when a Mac store gets pummeled by a car: I'm sick of those iPods, IcePods and those overpriced computers. Take that, Gizmodo Apple fanboys!
According to newly declassified info and the lead scientist himself, Dr. Bob Ballard, the successful search for the Titanic wreck was actually part of a secret hunt for two sunken cold war American nuclear submarines. The USS Thresher and USS Scorpion had both foundered in the 1960s, and the Navy needed to know what…