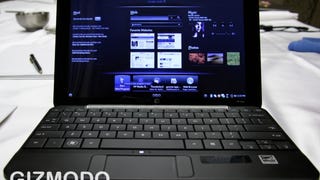 In the next couple months Lenovo will be rolling out a BIOS update for its Montevina laptop users which enables remote shutdown and subsequent encryption via text message. The tech relies on the laptop having a WWAN connection and activates when a custom string, defined by the user and sent from a single, paired…
Initially, HP indicated that a 3G WWAN-equipped version of their newest netbook, the HP Mini 1000, would be arriving sometime in December. But if we are to believe a forum poster on Pocketables.net, all it takes to get 3G humming on an HP Mini 1000 today is to download a driver and slide in your SIM card in a…
This rumor seems to come out of nowhere, but the combination of wishful thinking and high-end technology is what makes it so good. AppleInsider says a source told them Apple will integrate 3G access into a MacBook model. Other laptop makers have already introduced the trend into their business and "luxury" models, but…
EV-DO Rev A may be enjoying its time in the limelight, but now AT&T wants its 15 minutes of fame too, announcing its plans to upgrade HSDPA with faster upload speeds. The upgrade will gradually roll out through the year (via software updates) and new PC cards can be expected by mid-year.
We've had our eye on Sprint's EX720 mobile broadband card for quite some time now and the folks at SlashGear recently got the chance to take it for a test spin. Performance-wise, the card averaged impressive download speeds of 826 kb/s with upload speeds of 103 kb/s. It runs on Macs, but you'll need BootCamp or…
If you check your Apple software update today, you can see Apple's jsut put up an update for various Novatel EV-DO and HSDPA cards. Why is this important? Because we know firsthand how good the Sprint Novatel cards performed at CES.
Amidst the barrage of phones they introduced this morning, Sony Ericsson quietly released their first mobile broadband card capable of supporting 4 types of wireless—HSDPA, UMTS, EDGE, and GPRS. The card will get you 3.6 MBps of download speed and it's been fitted with an integrated antenna, so you don't have to…