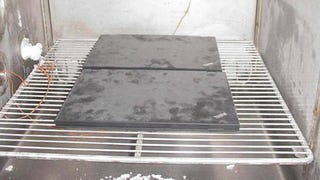 Good news if you own a ThinkPad X200, X300 or T400 or a few other Lenovo laptops: You actually got a mil-spec semi-ruggedized computer and didn't even know it!
Lenovo's X200 tablet isn't the best kept secret, but it's a nice looking convertible laptop now that we have the full specs. At 3.5lbs, the configurable tablet features a 12.1" touchscreen (in pen or finger input options) Core 2 Duo processors up to 1.86GHz supported by 4GB of RAM, and available upgrades to 128MB SSD,…
The tablet version of Lenovo's ThinkPad X200 laptop, sensibly named the X200t, was photographed in the wild, looking pretty much like an X200 with a swiveling screen. (That means it's also awfully similar to Lenovo's last tablet, the X61t.) Tablets don't really rock our world, but the X200's form factor and build…
Well, look at what's hiding out in the spec sheet for the X200 UltraBase docking station: a listing for a ThinkPad X200 tablet. The X200 is a perfect size for a tablet, and it'd solve our slight anxiety over just having the nub as an input. If it had some capacitive multi-touch like Dell's Latitude XT in addition to…
A lot of people (one of my friends included) jumped on a mixup on Lenovo's site that appeared to let you pack a 128GB SSD drive in an X200 for the tasty price of $0. It was a mistake and they're not honoring it (boo), but to make up for it, they are offering everyone who ordered it a free 64GB SSD. It's not quite as…
Get your orders in now, because you won't see a 128 GB SSD going for these prices, well, anywhere for several years-yet alone inside the tasty 12.1" Thinkpad X200. Yes, you're seeing it correctly-that's subtract $70 from the total, which comes to $1,434 with the mistake. Also notice the 64 GB SSD going for a…
Lenovo's 12.1-inch X200 is the newest and smallest member of the revamped X series. More than that, this thing is actually affordable, bringing some of the X300's sweet form factor (0.8 inches of thinness) and power down to a reasonable price, starting at just $1199. It almost sounds too good to be true. Is it? Here…
A few months back, we broke news on Lenovo's ultra-thin, ultra-functional X300 laptop. Now we've gotten an update on what the company's been up to during the interim. All of their lines are seeing a major refresh, but the biggest news is that starting this September, the famous X300 will have a family.
Philips isn't exactly the first brand that comes to mind when you think of laptops, but their upcoming X200 Ultra Portable actually looks pretty nice. It's got some pretty standard specs, such as a 1.73GHz Core Duo U2500 processor, a 100GB HDD, and 1GB of RAM, but what really makes it stand out is its Flybook-esque…
The Shuttle XPC Mini X200 is no bigger that a stack of magazine, looks a bit like a Wii, and packs one hell of a punch. This machine comes loaded with a Core 2 Duo processor, 2GB of DDR 2 ram, 7.1-channel audio, digital and analog TV tuner, FM tuner, Wi-Fi and even includes a remote. Media center, anyone? Tack on a…