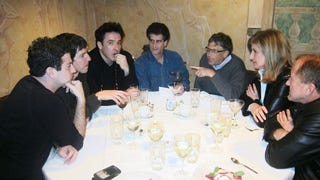 Everybody in this photo: Jared Cohen, US State Department; Dave Morin, Facebook; John Cusack; Dean Kamen; Bill Gates; Arianna Huffington; Michael Shermer, Skeptic Magazine; and (sorta) Xeni Jardin, BoingBoing. So, uh, you guys tell us what's going on here. [BoingBoing]
An oldie but a goodie (yummy? fatty?), reposted in honor of Taste Test: Xeni at BoingBoing deep-fries cellphones. It's all well and good until someone brings out the cookie dough. Then, things get ugly. I'll stick with boiling.
Well, today is officially the first day of our RIAA boycott. How do you all feel? Well rested? You eat a hearty breakfast? Good. In case you missed it, our Anti-RIAA Manifesto is a great place to read up on the facts of the issue and get prepped for the month ahead.