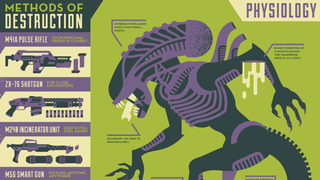 You never know when you'll need to take the fight to a particularly nasty Alien - but never fear, as this fantastic poster by Ryan Brinkerhoff not only shows you a few tips, but also looks very stylish.
While Noomi Rapace and Michael Fassbender's severed head journey through the cosmos, Sir Ridley Scott is hard at work at chronicling their adventures in his script for Prometheus 2. And now he's dropped a fascinating bombshell about the movie: It's going to have a new type of alien we've never seen before.
Do you prefer your scotch neat or with an extremely phallic xenomorph skull? If the answer is in the affirmative, then these ice cube trays by Japanese modelmakers Kotobukiya really belong in your freezer. Click on the lower-right of the above image for the veiny detail.
Here's a barnyard beast to join the ranks of the two-headed Armenian cow. In the village of Santa Cruz El Chol, Guatemala, a mutant piglet was born after residents saw curious, hovering lights in the night sky.