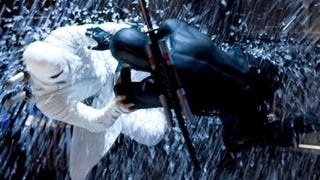 We've been skeptical of the G.I. Joe film for months now. Sad CG and goofy bare-chested Joe's all seemed to point to this film's eventual terrible demise. But the good news is, this film is bad in a fun way.
The one saving grace of the G.I. Joe flick has always been, and always will be Snake Eyes. You can't mess up that kind of bad assedness, right? Unless they went with the original idea for a TALKING Snake Eyes.
We're still a couple of months away from the live action GI Joe movie, but you can already get your fill of hardcore toy-inspired violence with the online premiere of Resolute, a new animated series.
Wondering what is going to make next year's GI Joe movie stand out from all the other superpowered summer blockbusters? Producer Lorenzo di Bonaventura's answer isn't the costumes, the special effects or even the potential of Jason Gordon-Levitt as hooded terrorist stooge Cobra Commander: "I think that, more than…
2009 is apparently already the year of the Joe. In addition to the GI Joe movie - and, yes, Sienna Miller does make a rather fetching Baroness, thank you for asking - those Real American Heroes will also be seeing a new line of comics from the people who currently bring you Transformers, Angel, Doctor Who and Star Trek…