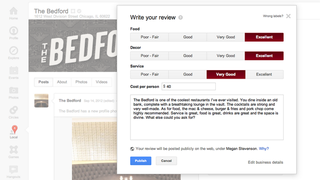 Google is moving away from the 30-point rating system it inherited from its acquisition Zagat last year because it's just too complicated. Instead, it will replace the confounding restaurant rating math with something a bit more straightforward.
The official Google blog says it all: the Mountain View tech monster bought Zagat, whose restaurant ratings are used and respected all over the world. Yelp should be worried.
In this week's pixel-doubled app roundup: AT&T's entire business model, potentially vaporized! Gears and pipes, diligently organized! Google Voice, web-ized! Restaurant menus, analyzed! Ski slopes, virtualized! "Ist" sites, app(et)ized! Ebook apps, plagiarized! And more...
If Patrick Bateman had a cellphone, he'd probably be rocking a Droid (with a Phil Collins ringtone, natch) after Verizon topped four of six major categories in Zagat's debut Wireless Carriers Survey.
Maybe I'm just writing this because I'm hungry, but damn if I'm not excited about the Zagat To Go app for iPhone that launched this week. Zagat may sometimes offer too many suggestions, but I find it useful when I limit geography, or as a resource for validating my own foodie guesswork. This version shows photos of…