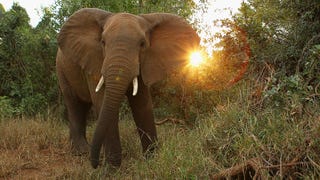 According to a report from South African news outlet News24, a 51-year-old professional big game hunter met his demise on Friday when he was crushed by an elephant. And hey, I'm sure the possibility of that happening is what made his game so "fun."
Hyperinflation in Zimbabwe has caused that country's currency to be worth virtually nothing. So the Reserve Bank of Zimbabwe is ditching their local currency in favor of US dollars. Soon Zimbabwe's cash will be used only in the American dadjoke economy, where being a trillionaire and meaning it is the height of comedy.
Last Sunday, Zimbabwean police found a 28-year-old man in flagrante delicto with a donkey in the town of Zvishavane. When pressed for a rationale, the man offered up that which can only be described as your typical True Blood subplot. Reports New Zimbabwe:
Does the African nation of Zimbabwe really possess the holy grail for Doctor Who fans? A British newspaper is claiming that the country may have the last remaining collection of the series' 1963 first season.