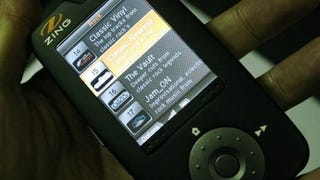 In July there were some strong rumors that Dell would be bringing out a Zing-based MP3 player that would be a "Zune killer": but now it looks like those plans have been canned. According to the Wall St Journal, Dell had been as close as this Autumn to making at least one Zing-device, but the prototypes are being…
A few weeks ago we ran a rumor that Dell was working on a new PMP-no biggie, really. Are people really trying to top the iPod at this point? But Business Week has uncovered more of the story from "multiple sources." Apparently Dell's maneuvering isn't about hardware at all (or that much, at least). It's about their…
Patches from All Things D headlined his Dell MP3 player post in a way that tickled me elmo:
Remember Dell's DJ Ditty MP3 player? Probably not, since Dell shut its PMP shop a while back. But over at the Wall St Journal, there's a rumor that Dell is planning on re-entering the PMP market with a new device that's been under development and testing. The device, name unknown, has a screen and simple navigation…
Washington D.C. (Agencies) - Confidential FCC documents unearthed today by internet blog Intomobile point out at the possibility of Apple releasing a new secret device which some experts think could be a "smartphone." The new gadget—which was submitted for FCC approval in June 1, 2008—apparently has a big "touch"…
Man, I love the guys at Worldwide Fred—but parents and janitors probably feel differently thanks to this ZING! spring-loaded spoon launcher. The way I see it, if you are going to go into battle, you had better have the right equipment. Loading up a round of vegetables in this thing will surely give you an edge over…
Whatever Dell's planning with the zingspot.com website, it's got something to do with being an "online consumer portal for digital entertainment content acquisition and distribution," which was the description for Zingspot in the recently filed trademark papers. It all stems from Dell's acquisition of Zing, the people…
Dell announced today that it's acquiring Zing in order "to continue improving the entertainment experiences it provides its customers." The short, vague announcement (check it post-jump) is a bit surprising because Zing's bread and butter is Wi-Fi music players (Sansa Connect, Sirius Stiletto, Pandora's Wi-Fi player),…
We gave you a hands-on with the Zing player back in September, and Zing was still looking for a home for its device. The home has been found. Introducing the SanDisk Sansa Connect. It is the same as the Zing player we have talked about, but it has a new name. It will be available in late march for $250.
DEMO is a bust for hardware geeks, but we did catch a live Zing music player—you know that one that uses WiFi to download internet radio and Sirius. The nice lady showing it off told me that they weren't announcing anything right now, but gave us a little tour of the player, as well as a chance to see how it stacks…
Zing—the company, not the sound effect—is developing a portable media player that functions mostly off of a Wi-Fi connection. Zing is partnering with Yahoo! and Sirius for their new player. The initial prototype includes 8GB of storage space that can be filled wtih music via a Wi-Fi, Bluetooth or direct connection.…