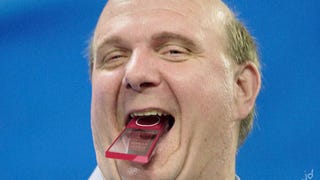 Steve Ballmer's recent statements about the Zune seemed to imply that it didn't have much of a future as a hardware product. Microsoft has responded to such suspicions: "Poppycock! Codswallop! FLAPDOODLE!"
In what may seem like a late start to the iPod race, Haier America is updating their Rhapsody Ibiza line with 2 new MP3 players: the Mini and the Touch. Sound familiar?
Right, so this is a weird one: we're getting tons of reports—tons—about failing Zune 30s. Apparently, the players began freezing at about midnight last night, becoming totally unresponsive and practically useless. Update: The easy official fix here.
Microsoft's just slapped together a pair of special edition Zunes for both the Republican and the Democratic National Conventions and they look pretty damn great. The one for the DNC is awarded for the winner of the "Green Delegate Challenge", which is contest for delegations that "demonstrate the highest level of…
A veteran NYPD detective is in danger of losing his job. A murder suspect gets his sentence reduced to a slap on the wrist, even though he was caught on surveillance camera shooting a man in the face in a Bronx elevator. Why? A little red MP3 player that was stashed in the shooter's pocket during the interrogation.
Today Rhapsody and Haier launched the Ibiza Wi-Fi music player, which lets you download Rhapsody tracks via Wi-Fi without connecting to a PC first. This is really good news for Rhapsody users, until now there was no true portable device for managing tracks, though Apple, Microsoft and SanDisk (with Yahoo) have…