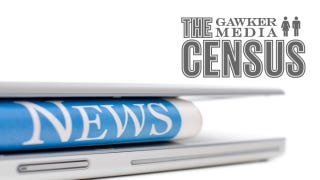 6,450 of you dear Gizmodo readers participated in the 2011 Gawker Media Census, and you made it clear that Gizmodo is close to your heart, and your computers. Maybe it's because 39% of you said Giz Explains is your favorite feature, or maybe it's because 41% of you rely on Gizmodo reviews before purchasing new gadgets. At any rate, you certainly seem to have a lot of reasons to love Gizmodo. And we love you right back.
But reader and commenter extraordinaire Marquette Madness probably has at least one more reason than most because his efforts earned him a free iPad 2. Good on you, sir.
Thanks to all who participated, and we hope to hear from you again next year.