Each week, we've been looking at webcomics new and old, bringing you some of the best of what we've seen online. 2012 brought us a wide range of genre webcomics, from a fanciful tale of an artist and his editor that uses all three spatial dimensions to one of the sweetest fan comics DC has ever inspired. In no particular order, here are 10 of our favorite new scifi and fantasy webcomics of 2012 (including a couple that launched in very late 2011) and short webcomic stories.
Strong Female Protagonist by Brennan Lee Mulligan and Molly Ostertag: Mullingan and Ostertag's comic started with an interesting premise: a superstrong ex-superhero hangs up her cape and tries to figure out what it means to be a heroic person in the modern age. They've taken that intriguing nugget and turned it into a thoughtful meditation on the superhero genre as protagonist Alison faces prejudice from her professor, the curiosity of her classmates, the resentment of her former teammates, and the knowledge that it's a whole lot easier to solve problems with your fists. The creators haven't lost sight of the importance of mystery or plot while holding to that central question: what is the best way for a superpowered person to be a good person?
G/O Media may get a commission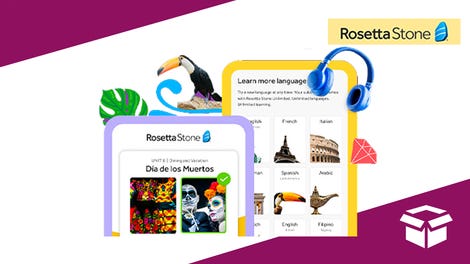 Extra 20% off
Rosetta Stone Lifetime Subscription - All Languages
The Fox Sister by Christina Strain and Jayd Aït-Kaci: This gets my vote for the most beautiful comic on the list, thanks in no small part to Strain's amazing coloring. Set in 1968 Seoul, The Fox Sister follows Yun Hee, Muist priestess whose family was slaughtered by a fox demon when she was a child, a demon who stole the shape of her older sister. Now, as an adult, Yun Hee finds herself in close proximity to the demon once again, and is determined to destroy it. By pairing her with a Korean war vet and Christian missionary, The Fox Sister explores not only Yun Hee's quest for revenge, but also the rise of Christianity in post-war South Korea.
Broodhollow by Kris Straub: Prolific webcomicker Straub gives a version of the Lovecraftian webcomic that's stylistically unusual but holds tight to the core concepts of paranoia, superstition, rituals, and madness. Wadsworth Zane is a perpetually paranoid failed encyclopedia salesman, but when he arrives in Broodhollow to claim an inheritance, he finds that it's an extraordinarily friendly town with an unusual number of holiday celebrations. But Zane has his own rituals, personal superstitions he uses to control the "pattern" he's convinced is ruining his life, and Broodhollow might be just the place where the horrors in his head burst out into the real world.
You're Just Jealous of My Jetpack by Tom Gauld: It's always exciting when a talented print cartoonist joins the ranks of folks posting their work online. Gauld has given us a series of highly literate short comics, with appearances by Feminist James Bond, the rational but vain queen who happens to own a magic mirror, and Samuel Beckett's Tintin.
Monster of the Week by Shaenon Garrity: Garrity has long lampooned science fiction with her webcomics Narbonic and Skin Horse. In Monster of the Week, she zooms in on a single television series, The X-Files, reviewing one episode each week in comic form. It's a love letter not only to the show, but two all episodic television, where we fall in love with certain characters (Scully), mock the show's tropes, and take the memorably bad episodes with the good.
Sarah and the Seed by Ryan Andrews: An aging man's wife gives birth one night to a giant seed, which she promptly plants and tends to. Andrews brings a lot of tenderness to this tale of a man who is disturbed by his offspring and mystified by his wife's complacency as he gradually learns to love the child she has birthed, even if it isn't quite what he expected.
Yūsuke Murata's 3D Webcomic: One of the most innovative comics of this year was posted online to a message board. The Eyeshield 21 creator places with dimension and light in his brief, frenetic story of a cartoonist and his editor.
Nimona by Noelle Stevenson: Stevenson surprised us this year with a self-aware, genre-bending webcomic that's incredible fun. Lord Ballister Blackheart is a former knight who was kicked out of his order and became it's thorniest supervillain. But he's fallen into that too-typical pattern of coming up with a scheme, dueling with his arch-rival, losing, and calling it a day. Then he meets shapeshifting sidekick Nimona, who pushes him to be the best villain he can be, and maybe do some good in the process.
Darkness by Boulet: The truth is, "Darkness" isn't the best comic French cartoonist Boulet put out this year. That prize goes to "Sunday Brunch," a comic about a family gathering and all the things that go through our heads when we talk to our relatives. But "Darkness" has a magical realism touch in the vein of Scott Pilgrim. A young man's roommate is plagued by an irresistible darkness that causes all of the women around him to uncontrollably swoon. It's a hilarious mockery of the dark antihero as well as a sweet and surprising love story.
JL8 (formerly Little League) by Yale Stewart: If DC wants to know how to attract new readers, they should look to Stewart's extremely popular webcomic. The toddler members of the Justice League of America all attend the same daycare, and have to deal with the perils of naptime, first crushes, friendships, and sharing their toys. It's frequently funny, sometimes heartbreaking, and accessible even to the most casual comic book reader.