This week at Gizmodo, we investigated the science behind music's "loudness war," eyedrops that biohackers claim are for night vision, mushrooms that could save the Earth, and why hammocks are the worst. Enjoy!
---
Remember the good old Samsung Galaxy S III? It was a fantastic little trooper, but we've come a long way since plastic phones were king. iPhones and Nexii and Motorolas and HTCs have been pushing the limits of style and substance, and now the Galaxy S6 is finally, finally catching up with them. It's stylish, it's solid. It's the whole package.
---
G/O Media may get a commission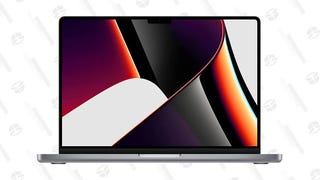 Save $300
2021 14" 1TB MacBook Pro
The thought was delivered just after my newborn's placenta: A sneaking suspicion that things were not quite the same down there, and they might never be again. I was reminded of the kGoal, a device that claimed it could tone my ladyparts back into pre-baby shape. Once my daughter had finished using my vagina as a giant elastic waterslide, I knew I had to try it.
---
"You want to see our sensor?" Pierre Forcioli-Conti gestures at a high window that leads to the roof. "You'll have to climb over Matt's desk and go out the window." No problem. I wriggle through the window and climb out on top of the the refurbished 1940s movie theater on Mission Street in San Francisco. It doubles as his office.
---
The Real Science Behind the Crazy Night Vision Eyedrops

When I called up the Columbia scientist whose mouse experiments inspired two biohackers to squirt chemicals in their eyes to induce "night vision," I expected, at best, cautious optimism. I did not expect him to tell me that, oh yeah, once, in his younger days, he hooked himself up to an IV and tried it, too.
---
There are fake towns, there are real towns, and then there is Agloe in upstate New York. The town was invented as a cartographical ruse in the 1930s, but it somehow ended up becoming real. Agloe's story might be the strangest in the already strange history of copyright traps in maps.
---
The Forgotten Offices That Shaped Apple, Facebook, and Google

Online, Apple, Facebook, and Google are competing to control the future of technology. Offline, they are competing to build the future of corporate architecture—small cities nestled in the Silicon Valley suburbs that are designed by some of the most famous architects alive today. It's a space race. Literally.

---
The key to the human race's future may be right beneath our feet. It sounds bizarre, but fungi better known as mushrooms can help solve many of society's greatest challenges, from cleaning up the environment and living more sustainability to colonizing other planets.​

---
Beneath Etsy's glitter-soaked, hand-stitched paisley exterior lies some of the weirdest, darkest wares the internet can offer. And in one of thee seedy offshoots, you will find some of the world's biggest pop culture icons in the form of amateur, taxidermied mice. And people fucking love 'em.
---
The Horrific April Fools Pranks of the 19th Century​
Here in the 21st century, April Fool's Day is a pretty harmless holiday. Brands trot out their fake products and news organizations make silly claims and then we all go about our day. But back in the 19th century, April Fool's Day could be pretty brutal. In fact, it could be downright dangerous.
---
LOUDNESS SOUNDS BETTER. It's Also Ruining Music.

LET'S TALK ABOUT LOUDNESS! Yelling is loud! That fashionable guy on the train blasting music into his ears? His headphones are loud! Loudness sounds good and feels good, and unfortunately, it's ruining recorded music.
---
With all these rich musicians making a ruckus about Jay Z's overpriced streaming music service, I'm getting a little emotional. Not about Jay Z's overpriced streaming music service. About the bygone golden era of streaming music's erstwhile golden boy: SoundCloud.
---
I'm writing this with a sore back and exhausted from not getting enough sleep over the weekend. Hammocks lure you in with the romantic appeal of above-the-ground, free swinging sleep, then pounce on you with a poorly insulated, biomechanically painful design.
---
The Most Isolated Town on Earth Wants a Radical Redesign

Smack dab in the middle of the South Atlantic Ocean, 1,000 miles from human civilization, lies one of the most isolated towns in the world. It's on an island called Tristan da Cunha, and for the first time, it's looking to the outside world to plan its future.
---
A Simple Design Tweak May Keep Drunk People From Falling On Train Tracks

The number of deaths linked to drunk passengers who wander off the platform and onto the tracks has steadily increased over the years. But a new study of these falls shows that many of them occur in the same way—and that there might be a few simple ways to prevent some of them.