Mobile World Congress, the big annual tech show that goes down in Barcelona every year, is now coming to a close. There were a few really big hits this year—a new flagship Samsung phone, and Valve's VR headest!—plus a few, lower-profile but still awesome announcements. Here's the best of MWC 2015.
The Galaxy S6 and Galaxy S6 Edge
New flagship Samsung smartphones are obviously going to be a big deal, but this year it's even more of a shakeup than usual. The Galaxy S5 was boring and band-aid-y but the Galaxy S6 is new, fresh and purty. No, it doesn't have a removable battery anymore, but its design has improved a ton. That, and its crazy sibling—the Galaxy S6 Edge—is a weirdo curved phone you might actually want.
G/O Media may get a commission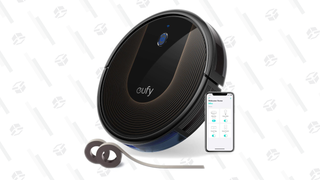 48% Off
Eufy BoostIQ RoboVac
HTC and Valve's badass new virtual reality headset
There are more virtual reality headsets than we could ever need, but few of them really matter. The new HTC Vive is one of them. A partnership between HTC and gaming goliath Valve, this new Oculus competitor has mind-blowingly good screens, can track you around the living room, and comes with some sort of as-yet-unknown VR controller. All that, and it's coming out this year. The war for VR just started in earnest.
Microsoft's folding keyboard for Android and iOS
Microsoft has been doing great work making terrific things for the devices you already use whether it be an email app, or a physical hardware. This lovely little folding keyboard for Android and iOS is an example. Sleek and thin, like the ever improving Surface keyboards, it's a great little typepad for those on the go who also don't want a dang Surface.
HP's new transforming ultrabook
Yes, we've all seen transforming ultrabooks before, but HP's new Spectre x360 looks to be of the best. Combining lovely build quality and low price—like we've seen in the new Dell XPS 13—with the ability to backflip into a tablet, HP's new ultrabook looks like a promising go-to for transforming computers, but for maybe a troubling battery life.
LG's pretty slick LTE watch
Want to make phone calls from your wrist like Dick Tracy? Maybe, maybe not. But if you're even slightly inclined, LG's new LG Urbane LTE looks like the best bet. It's a little bulky, but no Samsung Gear S, and interestingly enough, it runs WebOS instead of Android Wear. It's probably pretty expensive, so you probably won't want to buy it, but always-connected smartwatches are getting better looking for sure.
Huawei's super weird fitness band but also ear-piece thing
This one gets inclusion not because it looks good but because it's bonkers. Huawei's new TalkBand B2 is a voice-controlled fitness tracker that looks like it could be on the decent side of mediocre, but its trick where it turns into a Bluetooth ear-piece is juuuust wacky enough to make it worth mentioning. Something you'll want to buy? Probably not. Something you'll want to see? For sure.
A 200GB microSD card
No, there is no slot in the new Galaxy S6 for a microSD, but if there was, you could slam this ridiculously large 200GB one from Sandisk in there. Would you need to? God no. 200GB? What is wrong with you? But hey if you're a hoarder, go nuts I guess.
Honorable mentions:
Huawei's circular Android Wear watch is fine, but nothing special. Unless! Unless it turns out to be dirt cheap. We'll see!
Sony's Xperia Z4 tablet is about as slick and slim as 10-inch Android tablets get, if you are still into 10-inch Android tablets. Also, it's vaguely Surface-y with its new keyboard accessory!
LG's mid-ranged smartphones are going to have slightly curved screens, which is a way to make mid-range a little more fun.
Meanwhile, Sony's new Xperia M4 Aqua is everything a cheap phone should be. Waterproof and two day battery, count me in.

BlackBerry teased a phone with curved edges and a slide out keyboard. OK! Sure!
HTC's new One M9 seems like a fine little improvement on its existing flagship, but with nothing super special or exciting to speak of.
You can read about allllll of our Mobile World Congress coverage here.