There's something for everybody this week. From Scare Tactics and Kurt and Courtney to the return of Ask A Ninja, Web TV is crawling with some incredibly fresh finds.
Is AI Moving Too Fast? | Future Tech
TV SHOWS

Scare Tactics: Brought to you by Syfy, Scare Tactics is a lot like MTV's Punk'd, but scarier. 30 Rock's Tracy Morgan hosts the show that targets unsuspecting marks and puts them in the most horrifying situations, from deadly food fights to radioactive exposure, and laughs at them behind the safety of hidden cameras. All victims are eventually clued in and the result is generally one of hysterical relief. Put bluntly, this is the perfect show for the Halloween season.
Teach: Tony Danza: It's tempting to make a painfully obvious Who's The Boss reference here because Tony Danza is literally trying to become a real-life authority figure, a teacher. This brand new A&E series follows Danza as he learns the ropes and discovers what it takes to teach High School in Philadelphia. Turns out it takes a lot. The series premiere, Back To School, shows an emotional side of Danza we're not used to seeing. Who'd have thunk it?
G/O Media may get a commission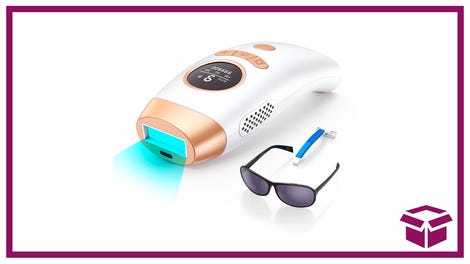 58% Off + Coupon
IPL Hair Removal Device

In Their Own Words: There's been a lot of buzz this week about Randy Moss's move back to the Vikings, where he started his NFL career way back in 1998. For those of us who need a little time to mull this over, In Their Own Words features an episode with the American Football star circa 2005, just after leaving for the Oakland Raiders. Moss reflects on his seven-year relationship with the Minnesota team and the impact it had on his entire career. Careful, this episode might just leave you in support of the trade, after all.
WEB SERIES

Ask A Ninja: He's been in hiding for almost two years now, likely stalking enemies or walking on his tiptoes or doing whatever it is ninjas like to do. Between 2006 and 2008, Ask A Ninja was a bona fide Internet celebrity, rolling out episodes weekly. And then, just like that, he disappeared. Well, now he's back, ready to answer your questions and follow through on death threats with his latest episode, Where I've Been. Stay tuned because a ninja's sage advice is not to be taken lightly.

Cat Chiropractor: If this show's title doesn't immediately pull you in, the fact that Zack Galifianakis guest stars in it absolutely should. Created by comedian and Late Night with Jimmy Fallon writer Bobby Tisdale, Cat Chiropractor is about just that – a cat chiropractor whose passion for feline spinal adjustments cannot be trumped.
White Collar Brawler: Have you ever wanted to ditch your day job to pursue something totally impractical? So did Nate Houghteling and Kai Hasson. The two 9-5ers recently packed up their bankers boxes and booked it to the nearest boxing ring. They've given themselves three months to train before heading for their first amateur boxing tournament, documenting their process as they go. But do they have what it takes to follow their dreams? If ever there were a Web series showcasing what it takes to fight the odds and reach your goals, this is it.
MOVIES

Kurt and Courtney: This documentary is the closest most of us will come to understanding the unique and strangely damaged relationship between Nirvana front man Kurt Cobain and Hole's lead singer, Courtney Love. Filmed shortly after Cobain's untimely death, director Nick Broomfield interviews a handful of people who knew the couple in an effort to unravel the controversies behind Cobain's suicide ruling and to obtain a more accurate depiction of the two rock legends. It's a must see for Cobain fans.
Off The Grid: Life on The Mesa: This fascinating documentary follows a real community of "eco-pioneers, teenage runaways, war vets and drop-outs" who live as far from America's mainstream society as they can without leaving the country. The group lives by its own rules, preaches its own interpretation of the American dream, and struggles to survive on what little the land can offer. It brings new meaning to "rebels without a cause."
Black Sheep: If you don't know and love this movie, you're either far too young or totally out of touch. Chris Farley and David Spade made their mark with Tommy Boy, and Black Sheep boasts the same comedic energy, only this time the two take on politics. That is to say, the two are trying to hide Farley's character from the probing eye of the media so as not to smudge his older brother's Gubernatorial campaign. Just in time for election season!
LIVE STREAMS & EVENTS

TimesTalks: Friday and Saturday, TimesTalks will be hosting multiple live streams of guests at the third annual Wine & Food Festival in NYC. The schedule is included at the TimesTalks Clicker page and upcoming guests include the cast of Iron Chef America and Heston Blumenthal, owner of The Fat Duck. Don't let your distance from New York stop you from enjoying all of the great guests and panels at this year's Wine & Food Festival.
Clicker is the complete programming guide for the new era of Internet TV. Clicker catalogs all the premium TV shows, movies, Web series, live events and music videos available on the Web in one seamless, organized experience so viewers can easily discover what's available to watch, where to watch it, and share what's worth watching online and from their iPhone or Android devices.