Welcome back to Toy Aisle, io9's weekly roundup of the coolest toys around! We've got a very cool Star Wars way to get kids to code, the best Supergirl merchandise yet, an excellent Transformers figure, and more. Come take a look!
---
Diamond Select Supergirl
There is not nearly enough merchandise in the world for Melissa Benoist's charming, bright, and wonderful version of Kara Zor-El, and what's out there now... is well, not great. But rest assured, what Diamond Select's newest statue lacks in articulation, it makes up for in looking like a pretty damn fabulous version of the Girl of Steel. Coming in at under 10" tall, the statue is part of Diamond's DC Gallery range, bringing it into scale with its previous figures based on DC's finest heroes of the page and screen.

---
G/O Media may get a commission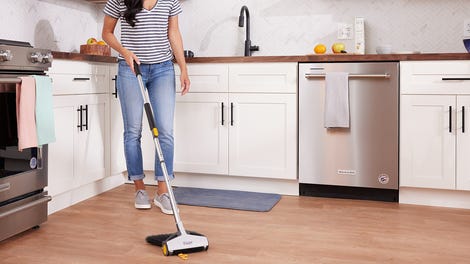 BOGO 50% Off
Flippr - BOGO 50% Off
Lego BrickHeadz Rey and Kylo Ren
The collectible figure trend has taken over the toy industry over the past few years, for better or for worse, but Lego's BrickHeadz manage to feel slightly less than an easy cash grab. They don't come blind-bagged (what you see on the box is what you'll find inside), and if you tire of your comically-proportioned Rey and Kylo Ren, available in a two-pack come December 1, you can disassemble each character and build a spaceship or something. That's the beauty of Lego, and why these collectible figs might actually be worth your time. [Twitter @Lego_Group]
---
ThinkGeek Transformers G1 Ultra Magnus
How do you sell a Transformers toy that doesn't actually transform? You'd assume no one would shell out a dime for such a disappointment, let alone the $390 ThinkGeek is asking for its exclusive G1 Ultra Magnus. But then you see that it's got 59 points of articulation, LED lighting throughout (including inside the Matrix chamber), and a bunch of legitimate die-cast metal parts, and suddenly you're trying to find a way to justify why you deserve to be one of the 500 people who buy this limited edition masterpiece. [ThinkGeek via Comicbook]
---
Funko's Stranger Things Season 2 SuperCute Plush Dart
If you're still trying to avoid Stranger Things Season 2 spoilers, then what are you doing on the internet? It was one of Netflix's most anticipated series this year, and it didn't disappoint. If you did see it, and for some reason desperately want a version of Dustin's pet demogorgon to call your own, Funko created a plush version featuring all three stages of Dart's development. The smaller versions of Dart can even squeeze inside the nine-inch tall demodog, and the entire set should be available sometime next Spring. [Funko via Action Figure Insider]
---
Star Wars Death Star Disco Ball
It can't be all work inside a space station as big as a moon, right? Buried somewhere deep in the Death Star there has to a discotheque or two, and we'd like to imagine that hanging from their ceilings is this 16-inch wide mirror-clad disco ball featuring the station's distinctive superlaser dish. For $50 it also makes a great addition to your next Star Wars-themed party as The Last Jedi gets closer and closer to hitting theaters. [ThinkGeek]
---
Bloxels Star Wars
It's apparently important these days for kids to learn to code, but what parent wants to sit their toddler in front of a pile of JavaScript syntax flash cards? A better place to start is Bloxels which lets kids design their own custom video game levels using pixel blocks they arrange on a gameboard—especially now that there's a $50 Star Wars-themed set. Each custom designed level is imported into the Bloxels app using a mobile device's camera, where it's automatically converted into a playable video game level. No kid should be forced to stare at code.
[Bloxels]