When I first saw the end credits scene of Justice League, it was incredibly exciting. The scene sets up some intriguing possibilities for the future of the DC universe and does so with several surprises. However, the more and more I've thought about it over the past few days, the more and more it's been bugging me.
If you are still planning on seeing Justice League and haven't had the final tag ruined, you should probably stop reading now.
To recap, the scene reveals that Lex Luthor (Jesse Eisenberg) has escaped from prison and asked the villain Deathstroke (Joe Manganiello) to come to his yacht. There, Luthor explains that since the heroes have formed a League, the two should work together to form a league of their own.
It's a cool scene. There's no doubt about it. And in this video, we explored the possibilities it raises. Those still stand.
G/O Media may get a commission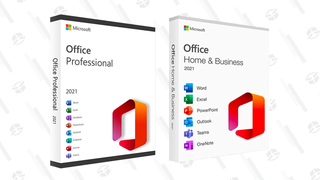 89% off
Microsoft Office Professional 2021 Lifetime License
But here's my question: Why Deathstroke? Deathstroke is not a character that's been on the big screen before. He's also not an instantly recognizable DC villain, unless you watch the CW shows. Besides the mention of his real name, the only thing that a small sliver of the audience might key into is that Joe Manganiello was originally scheduled to play the role in Ben Affleck's Batman solo film. That film has since been radically changed, so we don't even know if Deathstroke will still be in that hypothetical movie anymore.
Plus, 99 percent of people watching don't make that connection. All they see is the Sofia Vergara's husband dressed up like an orange Deadpool. And that's confusing. It's especially confusing when just last year, DC released a whole movie of super villains called Suicide Squad. Why didn't that come into play? Take any one of those characters, put them in Deathstroke's role here, and that scene is immediately, and infinitely, better. Even with a smaller character it works. If Captain Boomerang or Killer Croc showed up, that would at least link the moment to that other hit movie. But imagine it was Deadshot, Harley Quinn, or, gasp, the Joker? Holy shitballs! That would have been insane.
And if you still want to introduce Deathstroke, great. Put him on a couch next to Luthor. He's there, he's coming, and he's still being teased. Don't introduce him to audiences as if it's some massive revelation. Hell, even the opposite would've worked. The scene plays out the same way, but you see the Joker or Harley in the background. Pandemonium!
Now, of course, there are several things working against this idea. The first is it feels more and more like Suicide Squad is an uncertain piece of whatever the DC universe becomes in the coming years. It's already been floated as becoming possibly four totally different future movies: Suicide Squad 2, Harley and Joker, Gotham City Sirens, and/or Deadshot. So putting any of the characters into Justice League might be too constricting to characters and stories that are still up in the air.
Then there's the brass tacks of it: Scheduling and money. All of those Suicide Squad actors got paid a lot of money and had to go through a lot of physical preparation to play those roles. They're also in very high demand. So maybe Will Smith, Margot Robbie, or Jared Leto aren't in DC shape right now, or they didn't have time available to shoot the scene. That feels like the most logical and believable reason to not do the scene that way.
On the other hand, Joe Manganiello is no slouch either. He didn't show up or change his appearance for free. Deathstroke also has his own movie in development with Gareth Evans. Putting him in this movie has stakes. Plus, in reality, they literally needed one shot. As long as Eisenberg is on board, production could have filmed almost all of the scene over-the-shoulder or with a stand-in and then, just for one shot, you cut to a medium or close up of the actor's face. That's it. Half-day max!
Anyway, I'm sure there are reasons for this not being the choice. Hopefully DC has an explanation for why Deathstroke is the first person Lex Luthor called for this mission. Maybe he's the only person Luthor trusts to recruit the Suicide Squad. Maybe it's a test for the Deathstroke movie. And either way the scene is still pretty damn cool. It's just been bugging me because it could have been so much cooler.