Microsoft set Windows 8.1 upon the world today, and with it a host of improvements large and small. You check out our full review here, but in the meantime, here's a look at our favorite new features.
---
Start Button
Start button? Start button! The absence of Start from Windows 8 was cause for much concern among the Windows faithful. Now it's back, sort of, as a way to bring you right to your Metro display. It's not as robust as a full Start menu, but we'll take what we can get.
G/O Media may get a commission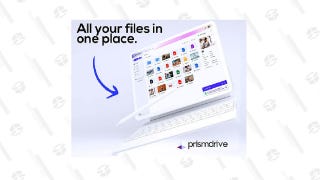 Save 97%
Prism Drive Secure Cloud Storage: Lifetime Subscription
---
Boot to Desktop
Even if you love Windows 8's bright, blocky tiles, there are some days you just want to work out of the traditional desktop environment. Or some weeks, or some forevers. With Windows 8.1, you can boot directly to the desktop, with no Metro in sight. Not that you necessarily should! But it's a welcome option that frankly should have been there all along.
---
Omnisearch
Searching from your desktop for files apps? Useful, but limited. Searching from your desktop for files, apps, and the ENTIRE BOUNTY OF THE INTERNET? Pretty damn cool. In Windows 8.1, the Metro desktop also acts as a search engine. That's handy.
And it's not just that omnisearch is there; it's how it works. While you're stuck using Bing, which can be decidedly hit or miss, results are intuitive in a way that a simple search is not. Type New York City into your omnisearch bar, and you'll get NYC weather and attractions in addition to more traditional search results.
Not to mention that omnisearch is pretty fun to say.
---
Matching Metro and Desktop Backgrounds
This may not seem like a huge deal. And to be honest, in the grand scheme of all things computing and otherwise, it's not. But the ability to make your Metro background match your desktop background gives you a firmer sense of place. It makes Windows 8.1 feel unified in a way that Windows 8 never did. It may not be the best new Windows 8.1 feature, but it's almost certainly the most underrated.
---
Xbox Music Playlist-Making
On the other hand, there's Xbox Music and its ability to generate clickable playlists off of text in an open browser tab. Say, for instance, you find an "OMG the 100 best triphop songs of 2007" listicle somewhere out there on the internet. Just share it to the Music app within the Charms menu, and you'll be listening to Sofa Surfers in no time.
You're going to love this the two times you actually use it.
Head here for our comprehensive Windows 8.1 review, and here for info on how to download it.