There's a little droid that's appeared in Star Wars in the last couple of years, R2-KT. She's an astromech with a special purpose: memorializing a little girl who passed away in 2005. Now, it looks like she'll appear in bigger things.
In 2004, Albin Johnson and his wife noticed that their daughter Katie was having some trouble: she kept falling down. After a doctor's visit, they received horrifying news: their daughter had an inoperable brain tumor, and she only had months to live. The 501st Legion (which had been founded by Johnson) rallied to his cause.
At Church, shortly after the diagnosis, he had an idea: why not create an R2 unit for Katie, to watch over her? The R2 Builder's club began to put together a droid for the family once they learned what Johnson wanted to do, and after a suggestion from his daughter Allie, it would be painted pink, Katie's favorite color.
G/O Media may get a commission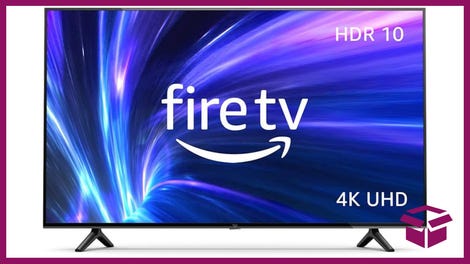 42% Off
Amazon Fire TV 50" 4K Smart TV
When it became clear that a droid wouldn't come together in time before Katie passed away, another astromech builder, Andy Schwartz, painted up his own and and shipped it over. Upon it's arrival, Katie she threw her arms around it and gave it a hug, and it watched over her in her last days.
On August 9th, Katie passed away, to a massive outpouring of grief from the Star Wars community. Through her ordeal, she became a focal point and inspiration for the 501st Legion's charitable efforts.
In 2006, the R2 Builder's club completed their own droid, and presented it to Johnson, who's brought the droid out to charitable events over the years. Hasbro even made a limited edition action figure.
It might have ended with that, but soon, the director of The Clone Wars, David Filoni, learned about the droid and incorporated her appearance into the television show as QT-KT, a droid owned by Aayla Secura. R2-KT also seems to have made her own appearances in the show.
[Some potential spoilers for TFA ahead]
It seems that R2-KT will appear in another Star Wars production: according to Geeks Speak and Albin Johnson, the little droid will appear at some point in The Force Awakens
Mary Franklin of Lucasfilm asked me to pitch the idea to Kathleen Kennedy (Lucasfilm President), and after hearing the story of our pink ambassador of hope Lucasfilm requested we ship her off to London early last year. Quick repairs were made and off she went for six months," Johnson says in his email. While he could not disclose just when we could expect to see the pink droid, he was assured that she will definitely appear.
From the beginning of the The Force Awakens production, LFL President Kathleen Kennedy has said that the franchise's fan base has been a key element in ensuring that there'll be new Star Wars films: the R2-D2 used in the film was built by fan members of the R2 Builder's club, and it looks as though Katie Johnson will be memorialized in a big way this December.