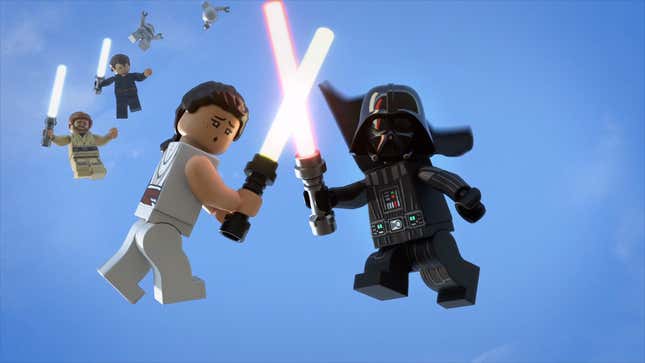 Rey must face the ghosts of Star Wars past, to save Life Day for the galaxy's future! We're in love, and not just because Poe Dameron's in a Christmas sweater.

'I Started a Yoda Fan Club'
Disney and Lucasfilm have released the first full trailer for the Lego Star Wars Holiday Special, streaming later this month on Disney+. Set after the events of The Rise of Skywalker, the episode will see Finn, Rey, Poe, Rose, and the rest of the galaxy come together to celebrate a hard-won Life Day after their defeat of the Final Order.
But Lego turkeys aside, when Rey discovers a secret Jedi temple that houses a mysterious key to the past, she finds herself on a journey throughout the Skywalker saga to safeguard time from her crazy ol' grandad again.
What follows is a perfect mishmash of Christmas cheer and time travel silliness, as Rey, Vader, the Emperor, and a cavalcade of other Star Wars heroes and villains are catapulted across the timelines, leading to everything from awkward parentage confrontations, more duplicates than you could shake a Grand Army of the Republic at, and, of course, Baby Yoda.
The Lego Star Wars Holiday Special begins streaming on Disney+ from November 17.
---
For more, make sure you're following us on our Instagram @io9dotcom.