My goodness, Steve Jobs' new house looks like it'll be a doozy. And it'll have to be, if he wants to keep up with the ivory castles his tech mogul cohorts have built for themselves.
Larry Ellison
The Oracle CEO put this $25 million manse up for sale back in 2005, though it's hard to imagine why; the grounds include a koi pond that feels more like a koi lake, an authentic tea house, and other Japanophilic touches that Ellison commissioned over the years. How invested was he in remodeling? The man imported more than 500 cherry and maple trees and around 5,000 tons of boulder to get just the right effect. He's since moved on to (relatively) smaller digs in Woodside.
Michael Dell
G/O Media may get a commission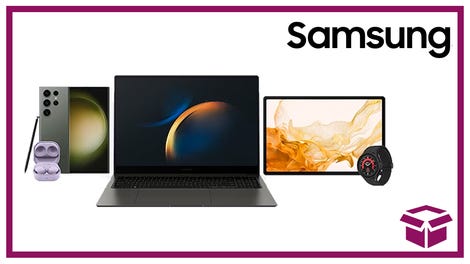 24 hour deals
Discover Samsung - Daily Deal
If an estate looks this good from Google Earth, imagine what it must be like on the inside. The $18 million home is the most expensive ever built in Texas, and the property's 33,000 sq. ft. make it arguably the largest as well. Eight bedrooms, a conference room, indoor and outdoor pools, a view of Lake Austin; not bad for a guy who started his business out of his (presumably much smaller) dorm room.
Eric Schmidt
Schmidt has one of the more modest mansions on this list, but four bedrooms and four baths on four acres is still pretty impressive. It's estimated to be worth $3.5 million or so, but the fact that he bought it from Ellen DeGeneres and Portia Di Rossi? You can't put a price on that.
Larry Page
We continue our Google House Tour with co-founder Larry Page's $7 million home that's becoming a whole lot bigger, literally; Page last year applied for a permit to build a 6,000 square-foot home on the lot adjacent to his current residence. He's reportedly bought up several adjacent lots over the years to bulk up his compound.
Bill Gates
Gates's home—known to some as Xanadu 2.0—isn't just huge (66,000 sq. ft.). And it's not just pricey (assessed at $147.5 million). It's also one of the most technologically advanced houses in the world. The man lives his job, with an estate-wide Windows server system. Guests wear pins that let individual rooms adjust temperature and brightness to personal preferences. It is, fittingly, the grandaddy of mansions for the grandaddy of tech giants.