The movie sets in Lord of the Rings set the bar rather high when it comes to creating massive fantasy worlds that your actors can run around in. But there have been other incredible, large-scale movie sets — from the disaster of the capsizing boat cities of Waterworld, to the art nouveau dystopia of Fritz Lang's Metropolis. Here are some of our favorites.
A whole city set for "Stalingrad" / dir.: Fedor Bondarchuk, 2013 (not yet released)
4 million dollars were spent to build this set near St. Petersburg.
(via EnglishRussia)
---
Places on Tatooine for Star Wars I, II, and IV / dir: George Lucas, 1977, 1999 and 2002
G/O Media may get a commission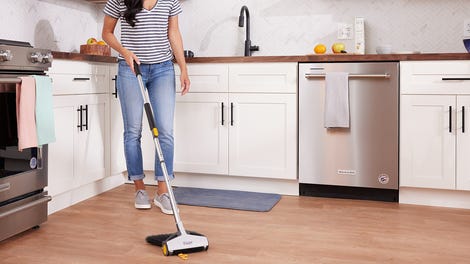 BOGO 50% Off
Flippr - BOGO 50% Off
In Tunisia, the Berber town Matmata, the large oasis Tozeur and the fortified granaries named Ksar Ouled Soltane and Ksar Hadada were used as filming locations for three Star Wars episodes.
(via Wikimedia Commons 1, 2)
---
Life-size Great Wall of Babylon in Los Angeles for Intolerance / dir: D.W. Griffith, 1916
The wall and the thousands of extras cost about $2 million.
Here's D.W. Griffith's scrapbook for the movie, with illustrations cut from academic books about archeology, plus the abandoned set after the filming, before it burned down in the 1920s.
(via Fine Art America and Long Island Archeology)
---
Sets of Metropolis / dir: Fritz Lang, 1927
Mirrors are used to create the illusions of the life-sized city. The process was invented by Eugen Schüfftan.
(via Pretty Clever Films
---
Skybreak House, Radlett, United Kingdom (1965-66) in Clockwork Orange / dir: Stanley Kubrick, 1971
The Skybreak House (designed by Team4, including the legendary Norman Foster) was the home of writer F. Alexander.
(via Curbed)
---
Frank Lloyd Wright's Ennis House (1924)
The home with ancient Maya-based design was built in 1924, and used in various movies: the exterior was seen in House On Haunted Hill (1959), it was a private residence in The Day Of The Locust (1975), and used in Blade Runner (1982) for few seconds.
(via Wikimedia Commons)
---
Sculptured House or Sleeper House for Sleeper / dir: Woody Allen, 1973
This elliptical house, designed by Charles Deaton in 1963, was one of the places where Woody Allen took a nostalgic look at the future in his 1973 movie Sleeper.
(via Denver Post and OpenBuildings)
---
Brandeis-Bardin Institute's House of the Book
The Camp Khitoer from Star Trek VI and a Borg compound in the Star Trek: TNG (Season 6 and 7: Descent and Descent Part II) were filmed here, next to the Sidney Eisenshtat-designed building from 1970.
(via Memory Alpha Wiki)
---
Sets of Titanic / dir: James Cameron, 1997
Lots of scenes were filmed in a water tank (with 17M gallons of water) in Mexico, with some small and a full-scale, partially working Titanic model.
---
Hans Poelzig-designed sets, located in Berliner Union-Film Studio, for Golem, wie er in die Welt kam / dir: Paul Wegener, 1920
It's a reproduction of a medieval Prague.
(via OldHollywood)
---