As summer rolls in with its heat and its sun, we're all thinking of fleeing toward the beaches. For New Yorkers, that could soon be a beach on a reclaimed barge, floating along the Hudson River. Could it actually work? We talked to City Beach's structural engineer to find out.
The idea for City Beach comes from entrepreneur Blayne Ross, who envisions much more than a floating strip of sand. Below deck, the barge will be outfitted with shops, concession stands, restaurants, a science exhibit —just a few rollercoasters shy of the Coney Island experience. A waterfall will surround the entire barge. Ross is currently running an Indiegogo crowdfunding campaign to make it happen. Slick marketing aside, we wondered if City Beach was more than just a pile of pretty drawings.
Nathaniel Stanton of Craft Engineering Studio, who is working with Ross on City Beach, gave us a few more details about the beach barge. "This project in particular is still kind of in its conceptual stages, but the engineering aspects have been very interesting to think through," says Stanton, "structural engineers don't usually have to think about things like wave action in this way."
The basic plan is to begin with an old barge. The team already has a class of barge in mind, which will be 260 feet by 70 feet, the size of about seven tennis courts lying side to side. Trusses inside the barge will be reconfigured to make space for rooms and restaurants and the concrete bowl of the beach. Alas, there will be no swimming at this beach, given the Hudson's, uh, less than sparkling reputation.
G/O Media may get a commission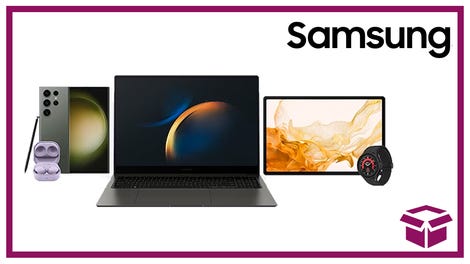 24 hour deals
Discover Samsung - Daily Deal
The waterfall, which I had initially thought to be a frivolous detail, actually has an important structural function. Barges are designed to carry ten or fifteen feet of sand or gravel, says Stanton, and the beach will actually be much too light for the barge. To weigh down the barge so it can dock along the shore at the correct height, it will take up water from the river. That's why City Beach has a curtain of waterfalls, but there are still challenges. "We don't know yet all of the regulations and requirements of bringing water onto the barge," says Stanton.
Another detail that is yet to be worked out is electricity. Depending on whether the barge will be towed or self-propelled, it may or may not generate its own power. Ross says they're exploring ways to take the barge off the grid and being as green as possible. In the winter, the barge will be covered and towed to a marine construction dock. City Beach will also have to get proper permission to dock along the Hudson River when in use.
"Floating beach" is certainly a seductively cool idea, but the team hasn't taken on an easy task. In fact, there's another wildly popular floating pool idea in the works over at Plus Pool, a crowdfunded project that just entered its second year of testing and, if all goes as planned, could be open and floating in the East River within the next few years.
City Beach won't be quite as complicated, but it's still a massive undertaking. If you'd like to see it happen, here's City Beach's crowdfunding campaign. Meanwhile, it's not like New York doesn't have plenty of beaches already. [City Beach]