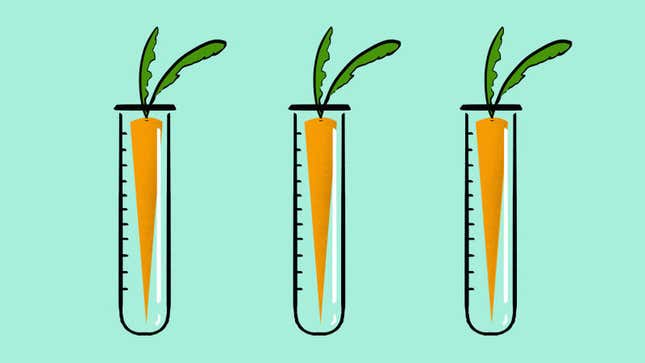 Amidst the clamor over genetically modified crops, there's an underlying point that's still being missed: Nobody really knows what constitutes a genetically modified crop.

Vizio's Latest TVs Go All Quantum
A new report from the National Academies of Sciences attempts to synthesize more than 900 existing research studies on GM crops into a single analysis. The salient finding of the report is that GM crops are just as safe as conventional ones. Within that conclusion, though, is an even more important truth. The reason there is no difference is because GM crops and conventional crops are the same thing.
Attempts to determine what is and isn't a GM crop have yet to come up with any clear definition of where to draw the line. The very act of planting a farm is an act of selecting which traits we want or don't want in the fruits and vegetables we eat. Many of the resulting hybrids (like broccoli or bananas) have been around for so long that they rarely trip the GM alarm. Yet, they too are genetically-altered crops.
It's this blurred distinction that the report's authors cite when making their ultimate recommendation to evaluate GM crops as individual products, not as a technological process. "All technologies for improving plant genetics—whether GE or conventional—can change foods in ways that raise safety issues," the report notes. "Therefore, it is the product that should be regulated, not the process."

The truth is that food safety for any crop needs to be monitored at every point in the supply chain—in the field, in the packing plants, and in our kitchens and restaurants. GM crops aren't some special category of crops. They're not even new. GM crops are simply crops.