Have you seen that viral video of President Donald Trump hissing? It's really weird. But it makes more sense if you see the original video. And after some sleuthing, we finally tracked it down.
Here's the video, which went viral on Twitter today and got picked up by news outlets like Boing Boing. President Trump almost seems possessed as he's hissing like a snake. But it's only because the video has been cut just before he says the words "thank you."
It's a little less scary in context, I promise. A little less scary.
The original video was shot on December 5, 2017, and shows President Trump during a lunch with Republican members of the Senate like Jeff Flake. They're discussing the Republican's $1.5 trillion tax bill, a massive transfer of wealth from the poorest Americans to the wealthiest Americans.
You can watch the full video at the White House's YouTube page, but I've pulled the relevant portion below. This video is shot from the other side of the table, but you can see that it's the same moment.
The original video was kind of hard to track down, as so many viral videos often are when they've been stripped of their original source and shared like this online. But I finally found the original by looking at a few big clues.

G/O Media may get a commission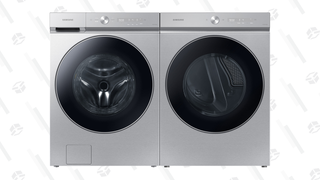 Get $500 back in credit
Last Chance: Samsung Bespoke AI Washer and Dryer Preorder
First, there was the fact that the president is clearly in the Roosevelt Room, based on the bison statue that's behind him. The president is also wearing a red tie. With that information, I manually searched the photo news wires for images of President Trump seated in the Roosevelt Room while wearing a red tie. I was then able to narrow down the potential dates pretty quickly and searched YouTube for news conferences in the Roosevelt Room until I struck gold.
President Trump... in the Roosevelt Room... wearing a red tie.... hissing like a snake. It's like the worst game of Clue ever. But at least we know the full context for this strange viral video now. And unlike President Baby Boy's claims about the infamous Lester Holt interview, this video was actually "fudged."
Why is everything just so weird all the time now? Just constantly never not weird.
Update, 2:30pm: The creator of the doctored video has confirmed that he slowed down the video and added a cat's hissing noise, along with questions about Supreme Court nominee Brett Kavanaugh to make the video seem like it was shot today: