This week we all fell in love with our televisual screens and discovered new depths between the pixels. So what did you miss from our TV Ate My Brain Week? We've got the best of the best lined up right here.
Your Complete Guide To Fall Science Fiction TV
The fall TV season is just around the corner, bringing us aliens, visions of the future and slutty witches. Here's a complete rundown of new and returning shows, with launchdates and clips, so you won't miss any of the shininess.
At Last, A Graph That Explains Scifi TV After Star Trek
When have TV aliens been more popular than magic? Do shows featuring time travel fare better than those about space exploration? We chart the popularity of television's most common themes, and see how scifi television has changed since 1970.
G/O Media may get a commission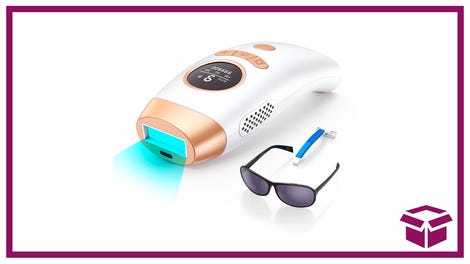 58% Off + Coupon
IPL Hair Removal Device
Reality TV Host Boosted Ratings By Murdering People
It sounds like the plot of a 1970s scifi movie. Brazilian reality TV host Wallace Souza was charged earlier this month with ordering his bodyguard to kill people to boost ratings for his crime-themed reality show Canal Livre.
SF Television's Most Eye-Melting, Ear-Bleeding Opening Credits
Why does science fiction television sometimes get a bad reputation? Oh yeah - because of cheesetastic opening credits like this one, from Jason Of Star Command. Here are a few dozen of the absolute scariest opening discredits in SF television.
The Television I Need Therapy To Work Through
I go to my therapist twice a week and often we just talk about television. You'd think I wouldn't need to pay someone to analyze why Lost works when nothing else will, and yet that's exactly what I do.
Original Pilot vs. Official Pilot: Which Shows Changed the Most?
While most shows' pilots air as their first episode, some shows get a do-over to make creative changes, improve production, or appease the network. We look at some of the pilots that didn't make it and how the shows changed.
What The Hell Happened to the Mid-Sized Scifi Movie?
This is a weird post. Maybe even a rant. And my ire could be significantly misplaced, but WTF - This is something I've been thinking about all summer: Where is the middle? I'm talking movie budgets here.
TV Shows We Wish Would Swap Writing Staffs
We don't just love television for the special effects or crackerjack acting, but for the writing. That's where our heroes get their cool lines and defining moments. And sometimes we wonder: what'd happen if our fave shows swapped writing staffs?

From Enchantress to Vamp Slayer - How "Bewitched" Created "Buffy"
A blonde hides her supernatural powers from the rest of the world while her show deals with social issues through metaphor and analogy... Sounds like Joss Whedon's Buffy, but Elizabeth Montgomery was there thirty years earlier with classic sitcom Bewitched.

30 Rock Salutes Science Fiction: Every Great Clip
We've all seen the big spoofs of scifi classics. Family Guy just recreated Star Wars and the Simpsons' Prisoner tribute was perfection. But nobody salutes science fiction better than 30 Rock's sly one-liners, which just slip it in there.
5 Reasons Why "House, M.D." Is Science Fiction
Popular medical forensics drama House is about science, and it's quite obviously fiction, but is it science fiction? Absolutely. And here's why.