Spend all week with a flock of screaming Gary Buseys? Don't worry we've got chart porn, a wholly original J.J. Abrams Board Game, plus 10 Marvel TV shows we'd like to see.
Stargate Universe Writer Asks For Your Help With The New Season
Stargate writer and consulting producer for SGU Joseph Mallozzi took to his blog asking the Gaters for input while he's scribbling away on the new season. Here's your chance to tell them to throw the stones out the airlock
G/O Media may get a commission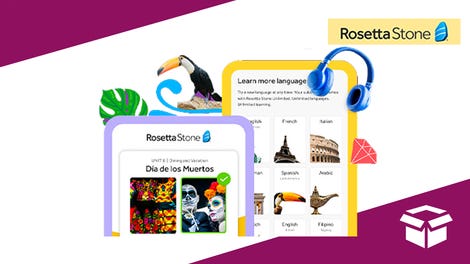 Extra 20% off
Rosetta Stone Lifetime Subscription - All Languages
Can You Win The J.J. Abrams Board Game?
When Lost returns on Tuesday, the surprises will come thick and fast. How would you survive if you were trapped inside a twisty J.J. Abrams story? There's only one way to find out: by playing the J.J. Abrams board game.
10 Shows For Marvel To Conquer TV With
As of this month, Marvel Comics belongs to the Walt Disney Corporation, which also owns the ABC television network. So when are we going to see some corporate synergy happening?
Digital Maps Reveal Hidden Geographies Of Sex And Religion
When you create a marker on Google Maps, you could be revealing the most popular religious and sexual habits in your local region. At least, that's what a group of social geographers demonstrated with their "sex and religion" map.
Worst Recastings Of Science Fiction's Rock-Star Characters
We have high hopes Don Cheadle will make us forget Terence Howard completely, when he steps in as James Rhodes/War Machine in Iron Man 2. But it doesnt always work that way.
10 Science-Fiction Heroes Who Don't Need Origin Stories
These days, every science-fiction hero needs to have an origin story - as if they're all superheroes. But some heroes are actually way better off without cookie-cutter origins.
Why The iPad Is Crap Futurism
The real question about Apple's new multitouch pseudo-computer, dubbed the iPad, is not whether it sucks or rocks. What all of us really want to know is whether it will change the future.
New Green Lantern Concept Art Brings The Corps Into Grim Reality
A collection of seemingly official concept art from Ryan Reynolds' space-cop adaptation Green Lantern showcases a few of our favorite members of the Corps.
The Wolfman's Moulting: All The Reshoots, Redos And Re-Edits
Reshoots, re-edits, rewrites and re-scoring - The Wolfman has been through it all. But have all these re-snips neutered Benicio Del Toro's furry monster picture? We re-trace all of the second-guessing that may have doomed this film.
Kim Stanley Robinson Goes to Jupiter
Kim Stanley Robinson's new novel, Galileo's Dream, takes the titanic astronomer-mathematician from Renaissance Italy to the moons of Jupiter in the 31st century to assist in a political battle pitting science against religion. We talked to him about creating worlds.
Marvel's DC-Slap Gets Slappier
Marvel Comics have revealed the cover for the special edition of their Siege series that they'll be giving retailers participating in their controversial exchange program, and...