When most of us hear the term "microhouse," we think of the chic, wedge-shaped homes that have colonized the world's wealthiest cities. But in a number of U.S. cities, microhouses are being used to house a different demographic—the very poor.
144 square feet is the size of the average McMansion master bathroom. However, for residents at Quixote Village, those 144 square feet represent an entire universe. As the New York Times recently reported, the residents of the village are members of a long-nomadic homeless group called Camp Quixote—which had moved more than 20 times in the past seven years. On December 24, its members took up residence in 30 tiny homes, which each cost $19,000 to build.
Although the Times brought a ton of attention to it, Quixote Village is just one of a number of microhouse projects going on across the country. For example, a ten-year-old development in Portland called Dignity Village serves as a model for Quixote: A tent camp of roughly 60 homeless people, some of whom have set up shacks and cabins on the site, which is officially zoned as a "transitional housing campground."
And in Provo, Utah, a local builder named Gary Pickering makes wheeled cabins, which he calls Dignity Roller Pods, for local homeless people. On his website, Pickering—who himself was once homeless—argues that "all homeless people should be able to stay on public lands that are clean and safe."
G/O Media may get a commission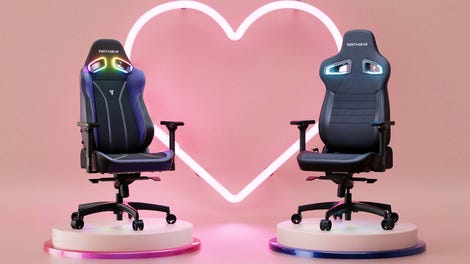 Up to $150 off
Vertagear Gaming Chairs
Pickering publishes his designs for other people to use, and encourages people to get in touch ("let me know if I can help!").
His pods vary wildly by person—just like full-sized homes—and some are even painted with personalized nicknames and emblems like "weather slayer."
Meanwhile, in Madison, Wisconsin, a group run by Occupy Madison is in the process of building 30 even smaller microhouses for Madison's homeless population.
Each house is only 98 square feet—enough to fit a mattress and a toilet—and outfitted with a solar panel that powers a small heater.
Images: Building Compassion Through Action.
Rather than pay for land to put these homes on, volunteers build them on wheels—they can be parked on public land or church yards. That's the real key: Bypassing the cost of land by convincing public parks, churches, and even private landowners to allow microhomes on their property for a few days a week.
The real hurdle here—beyond the economics of the schemes—might be cultural. Homelessness in the United States is an issue that ends up being ignored when it's not simply seen as a source of outrage. In a country where independence and self-sufficiency is key, the concept of "giving" things to homeless people is not always looked upon kindly. Which is a shame—after all, living in a 98-square-foot shed on a parking spot is far from a freebie.