It's almost September, which means it's almost time to pack the kids off to school, get out the coats (oh god, please let this heat finally recede), and get ready for the new TV season to begin. Some of these shows even manage without time travel!

Recent Video
This browser does not support the video element.
---
September
American Horror Story
Premieres: September 10, 10:00 pm, on FX
The sixth season of American Horror Story is the only one that hasn't revealed its theme before the premiere, a conceit that's more annoying than it is intriguing. Regardless, we do know that this year will include Evan Peters, Sarah Paulson, Kathy Bates, Angela Bassett, Lady Gaga, and—wait for it—Cuba Gooding Jr, among others. Feel free to watch an initially intriguing idea spiral out of control, as it does every year.
G/O Media may get a commission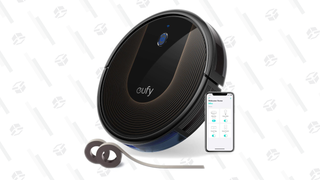 48% Off
Eufy BoostIQ RoboVac
Blindspot
Premieres: September 10, 10:00 pm, on NBC
We've had trouble staying interested in this series about a woman with amnesia covered in tattoos related to crimes. Even our love for Jamie Alexander hasn't quite fixed that. But, hey, this season has Archie Panjabi as a member of the NSA who has been keeping abreast of this mystery.
Z Nation
Premieres: September 16, 8:00 pm, on Syfy
The weirdest and campiest zombie show on TV returns for its third season, which finds Warren and company captured by a new opponent.
Gotham
Premieres: September 19, 8:00 pm, on Fox
Rob Bricken's favorite show on television's third season will have a magically aged-up Poison Ivy (Maggie Geha) and Mad Hatter (Benedict Samuel) as regulars. If you're still watching the most confusingly batshit comic book show on TV, best of luck to you.
Lucifer
Premieres: September 19, 9:00 pm, on Fox
Lucifer is entertaining as hell (pun not intended) and we're really happy to see it come back for a second season. Season two pits Lucifer (Tom Ellis) against his mom (Tricia Helfer).
The Good Place
Premieres: September 19, 10:00 pm, on NBC
A comedy with the premise that a mistake in the afterlife put Eleanor Shellstrop (Kristen Bell) in "the good place" instead of "the bad place." The trailer is pretty funny, and Bell, Ted Danson, and William Jackson Harper are clearly having a blast. We'll be watching.
Scream Queens
Premieres: September 20, 9:00 pm, on Fox
The second season of Ryan Murphy's ode to slasher films finds the cast in a hospital years after the events of season one. Dean Munsch (Jamie Lee Curtis) has purchased a hospital because, sure, why not. And the mystery will not just involve the girls working there but the weird medical cases being treated there.
Agents of SHIELD
Premieres: September 20, 10:00 pm, on ABC
The most important thing about season four is undoubtedly the inclusion of Ghost Rider (Gabriel Luna). We've also got a new SHIELD director (Jason O'Mara) and a possible AI in the form of Aida (Mallory Jansen) showing up.
The Exorcist
Premieres: September 23, 9:00 pm, on Fox
Thankfully, this new version of a movie classic is actually scary and manages to homage the original and incorporate new ideas. It has a few flaws, but if it interests you at all, go check it out.
Van Helsing
Premieres: September 23, 10:00 pm, on Syfy
It's a post-apocalyptic world and Vanessa Helsing (Kelly Overton) is just living in it. Look, the name thing—turning what was half of a last name into her first name—tells you everything you need to know about this camp fest.
Once Upon a Time
Premieres: September 25, 8:00 pm, on ABC
Look, let's be honest here: Once Upon a Time has gone very far off the rails and we are very tired and not recommending anyone suddenly start watching it.
Son of Zorn
Premieres: September 25, 8:30 pm, on Fox
A classic fish-out-of-water sitcom about a He-Man-esque animated character who ends up in Orange County, California, to spend time with his real-life son and ex-wife. From Lord and Miller of The Last Man on Earth, The Lego Movie, and like 900 other things.
The Last Man on Earth
Premieres: September 25, 9:30 pm, on Fox
The post-apocalyptic comedy with the title that isn't wholly accurate returns for a third season, and it will reveal who was in the hazmat suits with Pat. Asked to sum up the third season in three words at San Diego Comic-Con, star Will Forte went with "New… Malibu… Death." Sounds hilarious! (Actually, I'm from Los Angeles and can say with conviction that Malibu is always hilarious. Sometimes even on purpose.)
Channel Zero
Premieres: September 27, 9:00 pm, on Syfy
Channel Zero has an intriguing concept: it's an anthology show split into two six-episode miniseasons. The first one, "Candle Cove" is based on the creepypasta of the same name. The second, "The No-End House," is about a woman who finds everything at home has changed after she visits a disturbing haunted house.
Luke Cage
Premieres: September 30 on Netflix
Netflix's latest Marvel series looks so good we're dying to lose an entire day binge-watching it.
---
October
Timeless
Premieres: October 3, 10:00 pm, on NBC

One of a billion time travel shows this year, Timeless is about a scientist (Malcolm Barrett), a soldier (Matt Lanter) and history professor (Abigail Spencer) working together to fix the damage done after a criminal steals a time machine. It honestly looks like it might be the best of the lot.
The Flash
Premieres: October 4, 8:00 pm, on The CW
Barry has gone back in time and saved his mother, rewriting the timeline of not just The Flash but possibly the other DC/CW shows as well. It'll be interesting to see how "Flashpoint" has changed things, but it's probably not a good place to start with no prior knowledge, though.
No Tomorrow
Premieres: October 4, 9:00 pm, on The CW
Based on a Brazilian series, No Tomorrow is about a woman who is told by a man that the world will end in eight months and 12 days. She and her friends try to figure out if this is real or fake while also completing her bucket list.
Arrow
Premieres: October 5, 8:00 pm, on The CW
Season five of Arrow will be the last one to feature flashbacks to Oliver's time before coming back to Star City—apast which apparently includes Dolph Lundgren as a bad guy. Also, we're starting the year with Oliver as the mayor. It's going to be a wild year even before we get to the four-show crossover.
Frequency
Premieres: October 5, 9:00 pm, on The CW
Another of the new time travel shows, Frequency is based on the 2000 movie of the same name. Other than genderswapping the main character from a young man who talks to his father in the past to a young woman doing the same, much of the plot remains the same in the pilot. The pilot tread no new ground, but perhaps as the season goes on, it will get more interesting.
Supergirl
Premieres: October 10, 8:00pm on The CW
In its second season (its first on the CW) the CBS-transplant is pulling out the stops. An actual appearance by Superman? Check. Lena Luthor? Also check. Miss Martian? Sure, why not! Mon-El? That's who was in the pod at the end of the season. Oh, and a singing crossover with Flash? Done. It's going to be fun.
Legends of Tomorrow
Premieres: October 13, 8:00 pm, on The CW
Having put the Vandal Savage story put to bed in the season one finale, Hawkgirl and Hawkman will be getting a lot less screen time. Season two will do Island of Misfit Toys versions of the Justice Society of American and Legion of Doom. Newcomers include Hourman, Vixen (a different Vixen to the one that appeared on Arrow), Stargirl, Obsidian, Dr. Mid-Nite, Commander Steel, and Nate Heywood (Commander Steel's grandson who became Citizen Steel in the comics). On the side of evil are a bevy of familiar faces from various CW shows: Malcolm Merlyn, Damien Darhk, the Reverse-Flash, and Captain Cold. That is a lot going on.
Supernatural
Premieres: October 13, 9:00 pm, on The CW
The show that will never die enters its twelfth season with a new showrunner (Jeremy Carver has decamped to Frequency). And I know exactly what you're asking yourselves right now: Will season 12 feature Rick Springfield as Lucifer? The answer is "Yes, of course."
Falling Water
Premieres: October 13, 10:00 pm, on USA Network
As always, when discussing the new show from Walking Dead producer Gale Ann Hurd, I must point out that it has nothing to do with the Frank Lloyd Wright House. It is instead a show about three strangers who discover they are all dreaming a different part of the same dream. It has an Inception meets Sens8 kind of vibe, with a missing child thrown in for good measure.
Rocky Horror Picture Show Live
Premieres: October 20, 8:00 pm, on Fox
Fox's version of the cult classic is using the original script with direction and new choreography from High School Musical's Kenny Ortega. Look, you're either going to enjoy a new take with Laverne Cox as Dr. Frank-N-Furter, Christina Milian as Magenta, Annaleigh Ashford as Columbia, Adam Lambert as Eddie, and Tim Curry as the Criminologist or you're going to feel like a remake is a betrayal. It's up to you to figure out where you stand on this.
Black Mirror
Premieres: October 21 on Netflix
You will never catch us not recommending a new season of Black Mirror—a scifi thriller anthology that takes our usually hidden fears of technology and puts them all on grand display. Netflix will drop six episodes in October, four written by the show's creator Charlie Brooker. Details about his episodes are almost non-existent, save for a few images from the first episode, "San Junipero." We do know that episode two, "Nosedive" by Michael Schur and Rashida Jones is meant to be a satire about "identity in the social media age." We also know that episode six, "Playtest," is written by Dan Trachtenberg and has some video game element to it.
The Vampire Diaries
Premieres: October 21, 8:00 pm, on The CW
The sixteen episodes of season eight will be the last for the former CW staple, which means that this is it for fans. Sadly, it seems like Nina Dobrev's return to the show is likely to be brief at the end of the season, since executive producer Julie Plec said back in May that "I'm sticking with my side of the plan, which is to bring her back at the very end." There's some chance, she said, that it could change. But all rumors point to a finale-only Dobrev.
Dirk Gentley's Holistic Detective Agency
Premieres: October 22 on BBC America
Max Landis' take on the Douglas Adams character is not quite book-canon compliant. In fact, the whole show looks like madcap fun, but also like it might be more entertaining if it had a different name... one with no expectations attached to it.
The Walking Dead
Premieres: October 23, 9:00 pm, on AMC
If you're still not watching The Walking Dead, we don't know what we can say to convince you. As for us, all we really care about is finally putting the question of whom Negan killed to rest.