Wall Outlet Safe
Or you could just put an ordinary 50-cent power box in a hole in the wall, screw an ordinary $3 wall socket kit over it, and use that as your wall safe.
While this would be a bit harder for you to open, it would also be a bit harder for a thief to open.
And you could also put the plug in right side up or upside down or sideways.
by Lorne

Solar Powered Battery Charger
'Looks like a great product, if it doesn't suck.' I LOVE that comment, uhm...Bob. I think we should make that the standard first comment on every item posted on Giz. Perfect!
by Monty
G/O Media may get a commission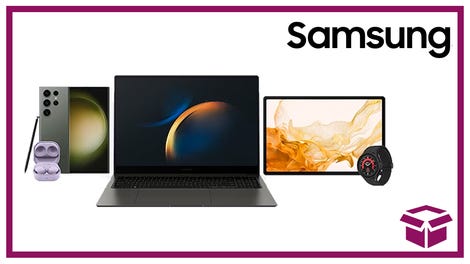 24 hour deals
Discover Samsung - Daily Deal
Hitachi Intros "Drive of Steel"
When I read it, all I could think of were valley girls saying "trippendicular".
Ugh.
by The Brain

Microsoft HDMI Cable Announced, Sorta
Sockatume: "Why is it designed to look like a 360 sitting on its back?"
It's designed to look like a hard cover book.
Am I the only one who thinks it's sad that people no longer know what books look like?
by DavidC

The Octarm
I thought for sure it was going to grab that teleoperator around the neck and strangle him, while the completely calm narrotor described his slow and painful suffocation and subsequent dismemberment.
by weatherman

Strobe Light Bicycle Vest
Sure, this thing SOUNDS like it makes biking safer. But just wait until your strobe light vest sends the driver of an oncoming car into an epileptic fit and swerves smack into your flashy ass.
You have been warned.
by SuppleMonkey

Logic3 i-Station 8 Speaker LCD iPod Dock
This looks like a miniature version of the speaker-rig at the beginning of Back to the Future that blows Michael J. Fox away.
by Moodryd