Mattel Wants Your Money This Holiday Season
Whoa, whoa, whoa. You got to play with broken bottles? Lucky devil. All I ever got was "Bag of Acid," and "Bag of Vipers." Oh, how I loved to play with "Burney" and "Bitey." What a pair!
But, back to the point, the NSECT thing does look pretty neat. In fact, I think that I will require that all my gifts this year have "mandibles" as one of the necessary components. Mom, that includes any sweaters you may be knitting for me.
by OneZero

Rapex: The Rape Prevention Device Delayed
Man some people are totally clueless about a womans body. Women do not uninate through her vagina, she has a clitoris that used for urination. The clitoris is like a mini penis with nerve endings and such. As far as this device is concerned I think the inventor should have taken it a step further. There should be some kind of ointment on the barbs on this device that actually knocks the perp out once the barbs penetrate the penis skin.
by Justapspfan
TwinMos PMP525: Supports Ogg Vorbis
Isn't Ogg the husband of Reba Vorbis, the famous Russian country and redstern singer??
by Blithering
G/O Media may get a commission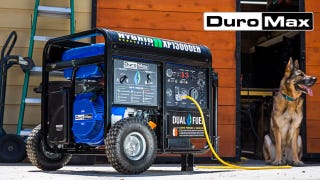 Black Friday Sale
DuroMax Generator Sale

BeatBuckle Keeps Your Hands Free
Sorry, there's a belt buckle in that photo? All I saw was her abs...
by Geisrud

USB Air Conditioned Shirt
that 'Jackie Chan'-like guy has a creepy grin going on there... what else does he have plugged into his USB port?
by deziner

Microsoft to Do the Robot
What are you all worried about? Think: Bill Gates announces he's retiring from running the Microsoft day to day operations to spend more time with his wife. Yesterday there was a post about robot sex and today there's a post about Micosoft having a robotics lab...
Wahoo boys, the Melinda-bot is finally fully functional!
by W.T. Hellzatt

Tuning Fork
I sure as hell am not happy about it. my bill through Robcast, er... comcast, is like $100 for digital cable (no DVR) and cable internet.
What really pisses me off is that it's more expensive to get cable internet if you DON'T bundle it with TV. I don't even want TV anymore, it sucks and there's a crapload of great IPTV out there. Eff you Comcast. Thank you Joe Barton.
by wohho

Bird B Gone Gun
This is no bull: Last night I was complaining to my wife about the noisy F*&kin mockingbird that has been driving me crazy the last few months. I said to her " I NEED TO GO OUT THERE AND GET THAT DAMN BIRD WITH ... WITH ... A... A...LASER OR SOMETHING!!!" No crap, she nearly wet her pants laughing at me... "HA HA HA... a laser.. you said your going to get the bird with a laser!!.... you geek!"
by nzruss