With the dire situation in Haiti dominating the news this week, text messages emerged as a powerful resource for relief. We cleared our minds and inboxes of everything CES-releated. Now, our attention turns fully to the Tablet.
The devastation in Haiti was tough to take in, even via satellite or seismograph. Text messages proved to be a useful technology there and elsewhere as they started down the long road to recovery.
Joel and Rosa put together a video entitled Booth Babe Confessions, looking at what life is really like for the non-gadget eye-candy of CES.
G/O Media may get a commission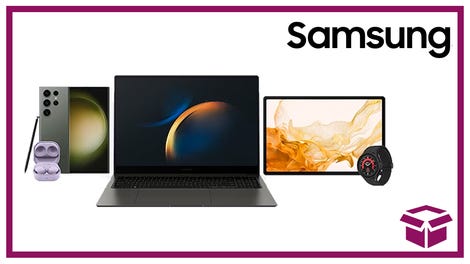 24 hour deals
Discover Samsung - Daily Deal
We wrote the Ultimate Guide To Ebook Readers We Care About. Read it quick before it becomes the ultimate guide to eBook readers we don't care about
Mark reviewed the T-fal oil-less fryer. Its mediocre performance could not lessen his love of sweet potato fries.
In addition to sweet potato fries, Mark also likes 3D. He describes the experience of watching it as viewing a digital diorama.
Jesus, upset about Apple's removal of the forChan image browser from the App Store, used their logic to demand the removal of Bing and Safari.
How will we type on the Apple Tablet? John teamed up with a world-famous hand model to explore some of the possibilities.
Sean, the wizard of weird news, found this tale of this jilted wife who got revenge by rewiring her husband's power tools.
Wilson explained how Blu-ray players are cannibalizing set-top boxes, and why it's a tasty prospect for consumers.
We ran a list of the 53 best iPhone games out there.
John scolded Microsoft for continuing to charge Xbox users for Netflix.
Whoa. Our friends at ValleyWag offered up big, big bucks for evidence of the Apple Tablet. A few other publications pointed out that this may or may not be illegal, but as far as I'm concerned, all is fair in love and slate.
Mark's campaign to get Apple to own up to its faulty, yellow-screend iMacs got its first official installment.
Jesus gave the Lenovo Lephone some serious style points.
As if you needed any more reason to distrust Facebook, a former employee dished some very worrisome information, like the existence of a master password.
Most people have already forgotten about Avatar. One guy has spent the last few weeks perfecting his ability to Photoshop himself into a Na'vi.
Matt collected and compiled customers' Genius Bar horror stories. Now he's asking for tales from the other side of the bar.
Speaking of geniuses, their true fear will be realized. Roaming Apple "Experts" will outrank them.
Our good buddy The Oatmeal explained why printers are evil. In pictures.
A UK company was showing off an unbreakable phone. A reporter speed-dialed Mr. Glass.
We found out that Motorola's Droid isn't the most secure little robot.
We wrote on the gear we used at CES.
If you asked Google, they'd say there's about, hmm, half as many advertisements in the world as there should be. Their solution: resell ad space in Google Maps.
No one likes talking to their nosy neighbors, and why should you, when you can just communicate via your Wi-Fi network name.
Microsoft said Android is like a puppy. The internet went "awww."
Not that it really needed confirming, but nudists aren't too upset about the private parts-showing airport scanners.
This week's update in a struggle as old as time itself: Duct tape: 1; bears: 0.
Thanks to semiconductor suppliers—who needs 'em, I say—PC prices may be going up, up, up.
When I get mad at tech support, I curse under my breath. When musician M.I.A. gets mad at tech support, she writes a song.
A few months ago we ran a story about how Steve Jobs had a really awful name for the iMac. Turns out, it might've been Mac Man.
Adam posted a documentary on Internet trolls.
A teenager got really frustrated about the prices at the Apple Store and threatened to blow the place up.
The criminal who was taunting police on Facebook was caught . He'll now be sentenced to five years on MySpace.
WiFi allergies continue to plague bozos across the nation.
Another from the dumb criminals file: a guy who stole an Android smartphone was revealed by an app that creates a remote back up for every photo the phone takes.
Jesus wanted to curl up for a nap in this ridiculous sleep suit.
A robot flower girl looked pretty in pink and behaved herself very well throughout the ceremony.
The Apple Tablet rumor mill kept a-churnin'. BGR got a tip that it was basically an iPhone on steroids. Those rumors got visual in a handy infographic. Also, we speculated on why just now Apple turned off the lights at Fingersworks.com
Feeling left out by all the tablet talk, the iPhone 4 wanted to hear some rumors about itself. The most intriguing: that it could have touch-sensitive casing.
A guy took a mind blowing picture with magnets. My words won't do it justice.
Matt checked out the new MobileMe gallery app for the iPhone. And he liked it!
Google gave early Nexus One adopters a $100 discount. It's the least they could do after they forgot about, you know, that whole customer support thing.
First player Tetris is also the first Tetris to make you throw up your lunch.
Apple wiz Woz oogled Google's Phone.
Sean showed us 10 gadgets that help you conquer the snow.
Pierre Petry gave a first hand account of the technical problems faced by relief workers in Haiti.
Sean loves Nerf guns, and he really loved this collection of 12 awesome Nerf mods.
We looked at this map of China, rendered with websites that are blocked there. Gizmodo is good to go. Gayromeo is not.
Long exposure film making got its masterpiece in the Magic Forest stop-motion video.
Paris partied really hard with a 7.5 meter disco ball, the world's largest.
Jesus wants to ride his bike through the sky with the Kolelinia system. And in some parallel Universe, he probably does.
In said Universe, supplies are launched to the International Space Station via underwater canon.
A PS3 went up in a mysterious blaze. We got photos.
We found out that some people can't even see 3D. Huh!
This DIY Star Trek Phaser is probably the closest you'll ever get to wielding one of sci-fi's most famous weapons. Borg may still be safe but balloons beware.
The bowline, the double carrick bend, the lariat loop: your favorite knots tied with earbuds.
We heard that Windows Mobile 7 is, for reals, coming in February. And it will have gestures!
It's looking like Apple is going to overhaul mobile ads the same way they did digital music.
Google got hacked. And then they did some of their own hacking.
What lies beneath Las Vegas? A lot of dirt—literal and figurative—and these weirdos.
A composer took Nokia's famous ringtone and made it into a bit of classical music that will quickly fade to obscurity.
How'd they make big ass zeppelins back in the day? If you said big ass ladders, you are correct!.
We learned about some of the technology behind the amazing shots in BBC's Life.
This $30 Ikea camera dolly hack is too cheap not to be useful.