Cut the Rope: An iOS game mainstay, it's finally available on Android. And it's Free at GetJar! The premise of the game, if you've been living under a rock, is to feed Om Nom his candy by cutting ropes in strategic fashion and also gathering as many stars as you can. Trust me, it's not as boring as it sounds. You'll be addicted in no time. Free.
---
Priority Call Filter: Priority Call Filter lets you only be bothered by the people you like. You can select exactly who you want to be available for (with certain time, day, mode restrictions) and if a person who isn't on that list tries to contact you, their calls and text are silenced. If the caller is so lucky to be on your list, the phone will ring like normal. It filters your phone calls and directs them as you set it. $1
---
G/O Media may get a commission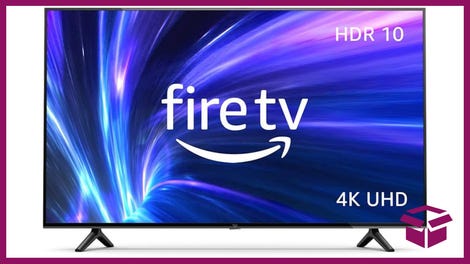 42% Off
Amazon Fire TV 50" 4K Smart TV
Hulu Plus: Hulu Plus has begun an "early rollout" on Android, a polite way of saying that it's available for you and you but not the rest of you over there. And the handsets that are compatible include some of the big names-Nexus One, Nexus S, HTC Inspire 4G, Motorola Droid II, Motorola Droid X, and the Motorola Atrix-there are quite a few popular handsets, and countless bitty ones, that are left out in the cold.
---
Crackle: Sony has released Crackle, an app that streams full-feature movies and popular TV shows to Android for free. For free. For free! We're talking popular TV shows like Seinfeld and Married with Children and big time movies like The Da Vinci Code and Stranger Than Fiction straight to your iPhone and iPad. And all completely free! The app is the same ad-supported streaming service as the Crackle.com website (and iOS apps) and has a decent catalog from Columbia Pictures, Tri-Star, Screen Gems, Sony Pictures Classics and other studios. It's obviously not as comprehensive as Netflix or Hulu but you're not paying a damn thing.
---
Zipcar: Perfect for users of Zipcar, the lovely rent-a-car service. The Android app lets you find and book a Zipcar, see what's nearby, make a reservation and even honk the cars horn or lock and unlock the car doors. All from the app!
---
Dolphin Browser HD V6.0 Beta: The latest version of the popular browser, the beta brings a new 'webzine' feature that turns your home page into a list of icons for favorite websites. Instead of acting as a shortcut though, the app actually gives you a feed of the headlines of the site's articles. Sorta like a RSS reader app on top of a browser. Neato. Free
---