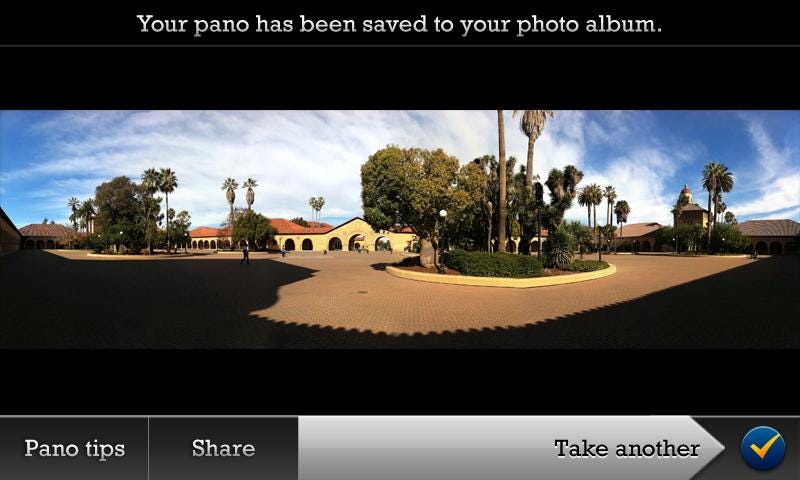 Pano: It's a panoramic picture taking app for your Android phone. Basically, you snap a series of side-by-side individual shots together and Pano automagically stitches them together to create one super long seamless photo. Hell, you can merge together 16 pictures into one humungo 360 degree photo if you wanted! So yeah, you remember that one time you wanted to capture the entire horizon on the beach? Pano does that.
---
Facebook Messenger: Think of it as a cross platform messaging service that enables you to easily talk to people on any platform-Android, iPhone, Facebook, SMS and everything in between. It's not dissimilar to Kik or WhatsApp in this aspect. If your friends are on Facebook, they'll get your message in the Messages (or on their Android or iPhone). If they're not on Facebook, it'll be re-directed as a SMS message (they'll get a message from a random number saying CASEY CHAN SAYS ___ ).
---
Videos: Google's official video player for Android, long available for Honeycomb tablets, finally works with Android phones (2.2+). You can use it to watch videos you store on your phone or flicks you got from the Market. It streams over Wi-Fi and supports offline viewing too.
---
New Yorker Goings On: In a nutshell, the Goings On app is the New Yorker's entertainment listings in app form. That means you'll be up to date with the theatre, art, music, dance, movies, restaurants, and night life scene. But there's more! You can read various New York-based artists wax poetic about the city and their own personal spots in the city and even listen to audio tours that guide you around the maze grid. Basically, if you live in New York and want to maintain some semblance of being "cultured", this should be on your phone.
---
POP Beginner: They call it the "ancient Australian art of genital origami," and considering the country's youth I suppose the Melbourne comedy-circuit duo's 13-year-history is a fair claim. But disregarding all that, the beginner and expert-level apps are chockablock with dick tricks. The apps obviously contain a fair bit of nudity, but if you're serious about upping your game either in the bedroom or in public like these guys, the $3.19 price for each app may be a suitable investment.
---
New York Post: The New York Post just released its Android App and it's 2 bucks. So grab it if you love to read hilarious headlines, page six gossip and more.
---
Olo: Proving that sometimes the best games are the simplest, the boules-like game Olo is amazing. It's a two player game where you battle each other by flicking your finger.
---
You can keep up with Casey Chan, the author of this post, on Twitter or Facebook.