Jackass: Tens Years of Stupid: Jackass: Ten Years of Stupid for iPad is a behind the scenes look of the biggest Jackasses we know: Knoxville, Steve-O, Pontius, Wee-Man, etc. There's video clips, gross photos, and essays on the entire history of Jackass. It's awesome to re-watch some of the epic skits, look back on the history and see the creative-yeah, I said creative-process behind the show. There's also two super simple games to waste your time on too. $5
---
Hound: Hound is a voice recognition app that's essentially a really, really good music-specific search engine. You speak an artist's name or song title into the app and it'll pop out all the stuff you want to know. The voice recognition part of Hound is great-it's the future!-but the results page of Hound is what will keep it on your phone. Like SoundHound, Hound will spit out a ton of information for you. If you're searching for a song you'll get lyrics, YouTube clips, an iTunes link, a Pandora station link, ringtones, similar artists and sharing options. If you're looking for an artist you'll be loaded with their bio, concert dates, a full discography and more. Free
---
G/O Media may get a commission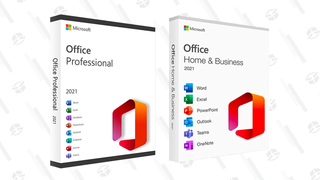 89% off
Microsoft Office Professional 2021 Lifetime License
Merriam-Webster Dictionary: Merriam-Webster has been iPad-ized and it looks beautiful. Hold your iPad in portrait orientation, and it's kind of a ho-hum app that lets you search for words. Turn it landscape, however, and it acquires a scrollbar that lets you smoothly browse through every word of the dictionary. Free.
---
Opera Mini 6: Opera Mini, the fast-ish browser previously available for the iPhone, has finally made its way to the iPad. The speed dial, 'tabbed browsing' and trademark zippiness of Opera Mini is all there. Sure there are a ton of capable web browsers for the iPad, but Opera Mini is a little better at compressing data than the others (that's important in these 3G data crunching days!).
---
WatchESPN: With the right cable provider, you can watch ESPN channels on your iPad now. It's effing awesome and a must download for any sports fan. Free.
---
Aelios Weather: It's an impressive weather app that's meant to show you what the weather is like across the world. Imagine having a globe where when you pin point a city, you immediately get the current temperature, 24-hour forecast, 7-day forecast, sunrise/sunset time and current time of that city. $3
---
Watchlaterapp: Watchlaterapp is like Instapaper, but specifically made for videos. It's a two step process. You either install a bookmarklet to your browser or email a link to your special Watchlaterapp email account, and it'll pop up in the iPad app for your viewing pleasure later. You can even save videos to watch offline, as Watchlaterapp gives you a free 300 minutes of video storage.
---
Leafsnap: Leafsnap is the smartphone user's secret weapon to a more meaningful relationship with trees. It's incredibly simple and strangely addictive: find a tree, grab a leaf, snap a picture. The app scans its outline-parsing criteria like smooth or jagged edges, single- or many-lobed-and tells you what tree it thinks it came from. It's similar to the "whoa! this is the future" feeling you get when you deposit a check via smartphone.
---