Evernote Peek: Evernote Peek is the first app to take advantage of the iPad's Smart Cover. Think of it as an 'educational app', or a modern day flash card. You fire up the app and close the smart cover, lift the cover just a bit and it'll pose a trivia question whose answer is just another panel away. It's a cute and simple game by itself, but you can also sync the app to your Evernote notebooks and create study guides too. Free
---
Dinosaur Zoo: Think of it as an encyclopedia for dinosaurs but instead of giving you monotonous info that bores you, it places you in an interactive Dinosaur Zoo (hence the name). You can slide through various dinosaurs and have them attack your finger tap, get fed, or drop a deuce. But Dinosaur Zoo isn't all play, there's basic information on the dinos and a slick map interface that shows you where they roamed (and additionally, what the Earth looked like in that era). $4
---
G/O Media may get a commission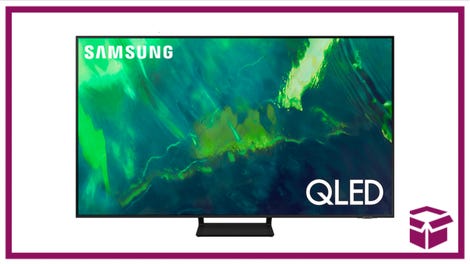 35% off
Samsung Q70A QLED 4K TV
Save big with this Samsung sale
If you're ready to drop some cash on a TV, now's a great time to do it. You can score the 75-inch Samsung Q70A QLED 4K TV for a whopping $800 off. That knocks the price down to $1,500 from $2,300, which is 35% off. This is a lot of TV for the money, and it also happens to be one of the best 4K TVs you can buy right now, according to Gizmodo.
Thrillist: If you live in a sizable city like New York or San Francisco, you'd know Thrillist can be an indispensable tool in figuring out what's happening around your city. They've just released an iPad app to help you go out more. The iPad app has a carousel that lets you flip between categories (such as New, Top, Near, etc and Eat, Drink, Shop, etc) to help narrow down your options. The 'Near' is especially effective as it lays out all the stuff you want in a Google Maps map. Free
---
Snapseed: Snapseed is a photo editor for the iPad with clever controls and snazzy textures and filters. So along with fixing the basics like brightness, contrast and saturation you can add a grunge or vintage filter. The coolest part about Snapseed is how you use it. You just select the effect or adjustment you want to make from the bottom bar and then (for most situations) cycle through the options with a vertical swipe and adjust your settings with a horizontal swipe (left for less, right for more). $5
---
Blogsy: It's a blogging tool for your iPad. Which means, it can replace your blog backend when you're on the iPad. Why would you do that? Because Blogsy makes all the html formatting you need for blogging-bolding, italicizing, linking and even adding pictures-a lot more iPad friendly. It works with both wordpress and blogger blogs so you can publish a post straight from the app. $5
---
Barcode Reader: You probably already have a barcode reader for your phone and you know what they do: find the cheapest price for the product you scan. This does just that but for the iPad. Sure, it might be a little awkward scanning with a big hulking pad, but saving money is worth the embarrassment. Free.
---