After poring over 9,200 entries, a panel of judges at National Geographic has chosen the cream of the crop. Here are 15 astounding photographs deemed to be the year's best.
Top image: Playful fight amongst two young sub adult tigers. This photo, which received honorable mention in the nature category, was taken by Archna Singh at Bandhavgarh National Park, Madhya Pradesh, India.
As always, photos were submitted in three categories: Nature, places, and people. They were assessed on creativity and photographic quality, with the grand prize winner taking home a $10,000 prize.
All images and captions via National Geographic.
Nature Winners Gallery
The Great Migration
G/O Media may get a commission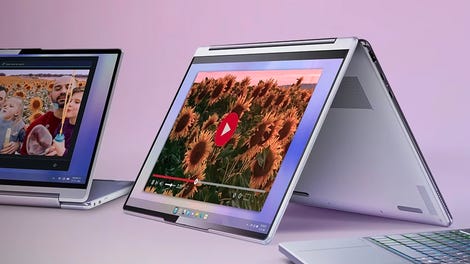 up to 70% off
Lenovo Spring Clearance
Nature winner. Photographer: Nicole Cambré. Jump of the wildebeest at the Mara River, North Serengeti, Tanzania.
Napoleon Wrasse
Nature honorable mention. Photographer: Christian Miller. Location: Cairns, Great Barrier Reef, Flynn Reef, Australia.
"On a windy day right after a Cyclone passed the far northern Great Barrier Reef I took some friends out to the reef. Never before I saw that many glass fish on this particular coral 'bommie'. Just when I setup my camera, this Napoleon Wrasse swam right through the school of fish building a living frame," says Miller.
Stag Deer Bellowing
Nature honorable mention. Photographer: Prashant Meswani. Location: Richmond Park, London, UK.
Shoulder Check
Nature honorable mention. Photographed by Henrik Nilsson, who writes: "A wild short eared owl completes a shoulder check in case something was missed. Northern harriers were also hunting in the field and these raptors will often steal a kill from the owls." Location: Boundary Bay, BC, Canada.
Zebras in a Crater
Nature honorable mention. Photographed by Zik Teo at Ngorongoro Conservation Area, Tanzania, who writes: "Ngorongoro Crater, Tanzania, is the world's largest inactive volcanic caldera. It is a collapsed volcano that harbours a range of African wildlife that live in relatively close proximity and competition of each other. Zebras are amongst the most common animals in the crater along with wildebeest, gazelles, hyenas, and lions. On a clear day, a 360º view of the crater rim can be seen whilst being inside."
Ice Art on the Window
Nature honorable mention. Photographer: Maie Kirnmann. Location: Estonia Tabasalu.
Places Winners Gallery
Thermal Spas in Budapest
Places winner. Photographed by Triston Yeo.
Storm in Turkey
Places honorable mention. Photographed by Aytül AKBAŞ.
Destroyed Buildings in Homs, Syria
Places honorable mention. The photographer, Sergey Ponomarev, writes: "Birds fly over the destroyed houses in Khalidiya district in Homs, Syria. In the vast stillness of the destroyed city center of Homs, there are large areas where nothing moves. Then, suddenly, wind blows a ripped awning, or birds fly overhead."
Tokyo Subway Station
Places honorable mention. Photographer: Peter Franc.
People Photo Gallery
Hong Kong Subway
Grand prize winner and people winner. Photographed by Brian Yen in Hong Kong, who writes: "In the last ten years, mobile data, smartphones and social networks have forever changed our existence. Although this woman stood at the center of a jam-packed train, the warm glow from her phone told the strangers around her that she wasn't really there. She managed to slip away from 'here' for a short moment; she's a node flickering on the social web, roaming the Earth, free as a butterfly. Our existence is no longer stuck to the physical here; we're free to run away, and run we will."
The Chief of the Ramnami People
People honorable mention. Photographed by Mattia Oassarini in Chhattisgarh, India, who writes: "The [chief] of Ramnami people in Chhattisgarh, India. Ramnami tattoo the name of the lord "Ram" on their body. Their entire focus is on the name of Ram, the name of God that is most dear to them. The Ramnami Samaj is a sect of harijan (Untouchable) Ram. Formed in the 1890s, the sect has become a dominant force in the religious life of the area. The tattoo is the result of their devotion and also, a gift and an acknowledgement from Ram."
Temper Tantrum
People honorable mention. Photographed by Adam Birkan at a shopping mall in Bangkok, Thailand.
My Brothers and I
People honorable mention. Photographed by Tyler G at the Blue Ridge Parkway, who writes: "Our road trip down to Miami traversed this outlook on the Blue Ridge Parkway. We rested on this ridge overlooking the mountains. Though we argued consistently throughout the journey, here we were reminded of our brotherhood."
Seekers of Eternal Youth
People honorable mention. Photographed at the Dead Sea in Israel by Nick Riley