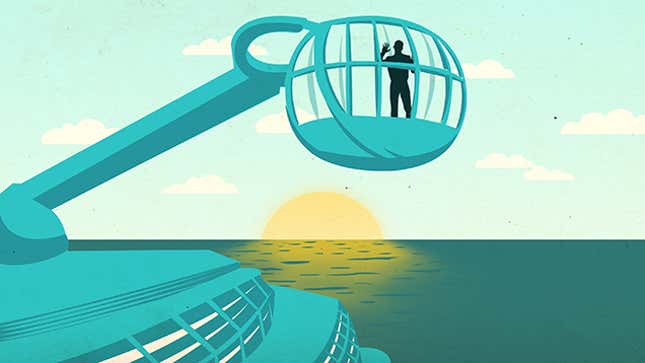 I woke up in a strange place. The bed felt plush, and when I rolled over onto my side, there was water, an ocean full of it. I felt slightly sick. I'd just spent my first night on the world's most advanced cruise ship, but a billion dollars worth of technology is no match for the Atlantic Ocean.
This ship had over 20 restaurants, and I knew one of them must have coffee.
"Did we miss breakfast?" I asked my girlfriend, as I dug through my half-unpacked bag for a shirt. "Do you know?"
"I have no idea," she shook her head. "Isn't there an app or something?"
"The app thinks the cruise is over," I grumbled. At some point, the app that was supposed to be my personal concierge for the whole cruise started to display a "Have a Safe Trip Home" message, directing me to collect my luggage. The onboard features were gone, and we were definitely in the middle of the ocean.
G/O Media may get a commission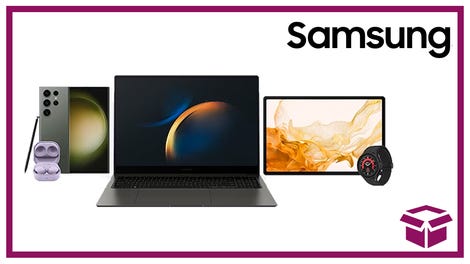 24 hour deals
Discover Samsung - Daily Deal
On the desk, hidden in a folder where I'd absent-mindedly stuffed it, was a paper version of the day's itinerary. We hadn't missed breakfast, but we'd have to walk what felt like a mile to the other end of the ship before we got there. The app surely could've steered us there. I'd follow the signs on the wall instead.

Several weeks before that foggy morning, Royal Caribbean had invited me on an inaugural voyage of its newest ship: Quantum of the Seas. It was an exciting email to receive; Quantum's reputation preceded it. It's the one with the robotic bartender, indoor sky-diving facility, virtual balconies, bumper cars, crazy-fast Wi-Fi, a surf simulator, and even a Johnny Rocket's for eating burgers by the pool. It's all powered, naturally, by two new apps that help you plan your trip and navigate a ship that's nearly a quarter mile long.
Royal Caribbean wanted us to check out Quantum of the Seas so badly, the company hosted me and a guest for two days and two nights, all expenses paid. Conveniently, the ship sailed from New York City, where I live, so we did not take them up on the airfare.
Quantum of the Seas is also the ship that's supposed to make or break the cruise ship industry, which poses an interesting question: Does adding all of this technology and connectivity really make a holiday more relaxing and enjoyable? Especially given that lots of people go on vacation specifically to escape technology. You know, the old "unplug and recharge" mantra. I wasn't sure what I believed going in, but this cruise would reveal a more nuanced truth.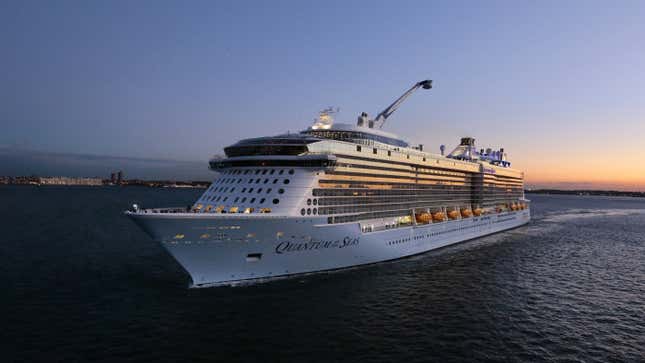 Quantum of the Seas as it sailed into New York Harbor, just before my cruise (Image: Royal Caribbean)
It wasn't the technology itself that made Quantum of the Seas stand apart. There's nothing strictly new here, just new to giant cruise liners. Rather, it was how Royal Caribbean was redesigning the entire cruise experience to be tech-driven. Human concierges had been replaced by informative apps. Bartenders had been complemented with cocktail-slinging robots. Blank walls had been transformed into dynamic screens. All of this aspires to transform the cruise experience into something more fitting for our digital age.
I'm a native of that digital age, and I'd been wanting to on a cruise as an adult for, well, basically the entire time I've been an adult. But nobody would ever go with me! They didn't want anything to do with a kitschy cruise. I guess mine is sort of the post-cruise generation—or at least that's what people are saying.
My parents were big cruisers in the 70's and early 80's, so they always talked up the experience. In the 90s, we went on a little three day Carnival cruise from Cape Canaveral to the Bahamas and back for my sister's 13th birthday. I was 11 at the time so I don't remember much. But I do remember the rocket launch. Cape Canaveral is just around the corner from the Kennedy Space Center, and we'd gotten lucky on the timing. The night we set sail, the passengers rushed up to the deck after dinner to see the shuttle take-off. The blast from the thrusters lit up the horizon, and the spacecraft scorched across the sky. I'll cling to the sense of awe I felt at that moment for the rest of my life.
There would be no rocket launch on this cruise. Instead, I'd have to settle for lesser—however still impressive—technologies. It's also worth noting that Royal Caribbean is celebrating the crown jewel of its new customer-winning line of ships in the United States for just six months. Then it's ripping out the ship's live music venue, expanding the casino, and sending Quantum of the Seas to China, where it will live permanently.
But I'm getting ahead of myself. Why don't I start from the beginning, before the seasickness and the stress and the scotch? Why don't I tell you about the first time I saw this so-called "smart ship?"

In New Jersey, sandwiched between a beautiful country club and a barren rail yard, there's a cruise port called Cape Liberty, about two miles away from the Statue of Liberty. There she was, floating in the Hudson River like a sideways skyscraper: Quantum of the Seas. The world's most advanced cruise ship. The home of an indoor sky-diving tube, an ocean-faring gondola, a tablet-powered mixology machine.
Now it would be my floating resort for the next two nights. I honestly couldn't wait.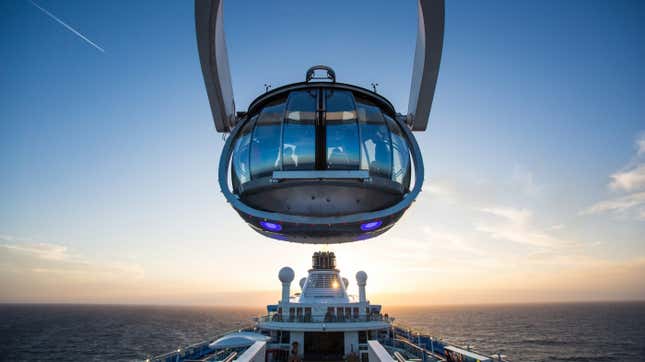 This is North Star, a gondola on the end of a crane arm that swings out over the ocean to give passengers a better view of the, uh, ocean. (Image: Royal Caribbean)
Weighing in at nearly 170,000 tons and measuring almost 1,200 feet—that's almost a quarter of a mile—Quantum of the Seas is the world's third-largest ship. All of that hull is enough space to stack up 16 decks full of 18 restaurants, four pools, and even a roller skating rink. The ship holds up to 4,180 guests and 1,500 crew members. All that for an estimated $969 million.
There are several pillars that support that smart ship designation—I'll get into a few more of them later—but the first is a ten-minute check-in process. You're supposed to do the vast majority of the check-in activities online and print out your boarding passes before your trip. That way, when you show up at the port, you just go through a metal detector, get your ticket stamped, and climb aboard. This seems standard to airline travelers but is apparently new to Royal Caribbean.
That's not how it happened, though. I don't have a printer at home, so after we went through security, we first had to go to a kiosk, where a friendly attendant printed out our boarding passes. This alone ended up taking about ten minutes, during which I overheard one attendant ask another what the password for the registration system was. I don't want to make it too easy for ne'er-do-wells, but let's just say the password is a slight variation on the word "password."
Once we finally got our stamped boarding passes, we hobbled over towards the ship, where another attendant scanned them. There was an error. Despite the passes showing all of my correct information, when they scanned the ticket, the computer thought I was my girlfriend.
While we were finally walking up the gangway onto the ship I wondered whether or not those early glitches matter. I could have avoided one of them if I'd had access to a printer. And an errant boarding pass scan, while frustrating, doesn't seem like an issue created by new technology; it could have happened on any cruise ship.
The real test of whether or not technology improved the cruising experience would happen once we boarded the ship. After all, Royal Caribbean designed an entirely new system that used RFID chips in wristbands or old-fashioned plastic cards to keep track of guests' wants and needs.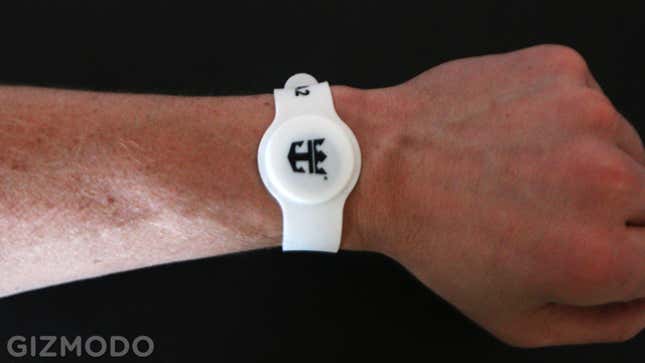 The design of the wristband makes it seems like Royal Caribbean wants you to replace your watch with an RFID chip. I wore mine for about five minutes before it felt like a weird some sort of weird tracker. I decided to wear my watch instead because we still had dinner reservations to make.
You could use either the wristband or the card—both contained the same passenger data. (I ended up using the card the whole time because it felt like college, and I liked that. I also didn't really like the idea of wearing a branded bracelet for three days.) Nevertheless, this design surely affected the check-in process and required writing new software. New software is always buggy, even on cruise ships.

Let me get this out of the way now: Quantum of the Seas is a spectacle. I'd almost say that it's a caricature of a spectacle, each feature drawn out to a hilarious extreme and entirely overwhelming. Walking into the Grand Concourse felt like walking into senior prom, except instead of rented tuxedos and sparkly dresses, everyone's wearing Bermuda shorts and matching Royal Caribbean wristbands. I'm sure a lot of cruise ships are like this, but having only been on one as a child, I couldn't quite grasp the gravity of this extravaganza.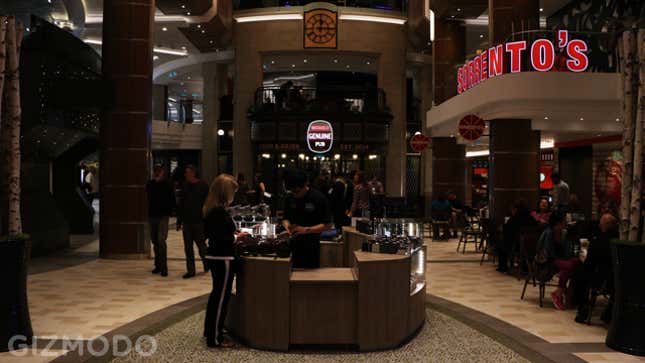 It's worth noting that the pub had my favorite beer in the world, Heavy Seas Loose Cannon, on tap. It's also worth noting that the keg was kicked by the time we stopped by, less than 24 hours after the cruise started.
The ship's town square, while handsome, didn't seem too remarkable at first glance. We meandered past a pub that actually looked like a real pub and past the expensive duty-free brands you probably see on most cruise ships. There's sort of a fancy mall feel to it all.
It wasn't until we got to the elevator banks that I felt like I was on vacation in Blade Runner. If the town square area was overwhelming, this elevator situation was downright unbelievable. Everything was a touch screen, so there were no physical buttons to push. We guessed which deck we were on from the room number on our boarding passes—there were no porters to show you to your room on this presser—and tapped the glass. On second thought, the overall design was even more futuristic than Blade Runner. It was more like Tron 2.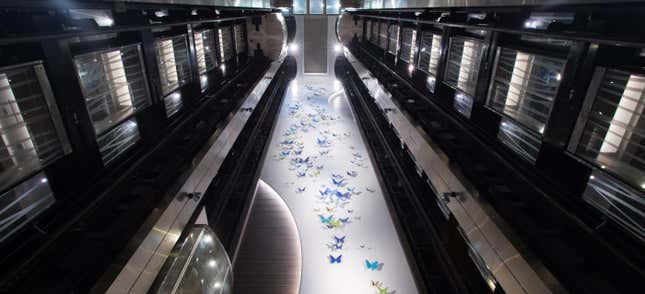 Just imagine six columns of glass and steel zooming up and down while you surf through the Atlantic Ocean. Sure, other cruise ships have elevators, but these felt damn futuristic. (Image: Royal Caribbean)
What really stood out to me as I explored the ship was the sheer number of screens. There was a screen for everything: a tablet to help you make your dinner reservations in the Grand Concourse, a screen for displaying weird video art, a touchscreen panel to help you navigate the ship, and obviously, a TV screen in the staterooms. As someone who normally stares at a screen for approximately 15 hours a day, this LED-lit landscape was not necessarily a change of pace.
When we finally found our cabin, though, I was surprisingly delighted. I knew that we were going to have a balcony, but I expected my complimentary cruise to come with a little bit less space. Looking back at the (cheap) Carnival cruise my family took years ago, I think the four of us squeezed into a space that's roughly the size of a hatchback.
What I got on Quantum of the Seas was pretty comparable to a standard hotel room with a queen bed, a desk, two closets, and an almost-normal-sized bathroom. The decor was inoffensive, tasteful even. The TV was a razor-thin Samsung that swung out from the wall so that you could see it from any angle. Rooms without a window came with a virtual balcony, a larger TV positioned vertically that streams live images of the ocean view. (More specifically, RED Epic HD cinema cameras beam live images onto 80-inch Sharp Aquos 4K LED TVs.)
I didn't get on this ship to watch The Jetsons in my cabin, though. I came to do, well, I don't what. There were so many options, I didn't know where to start. For lack of a better organizing principle, I went to the very front of the ship.

The way it's laid out, Quantum of the Seas is like a floating city. That's true of all cruise ships, but the exceptional number of dining, drinking, and entertainment options on this particular ship made the whole experience feel weirdly urban. And in this floating city, every hour is happy hour.
As we headed up to the deck, we spotted a couple of cruisers cradling large glasses of white wine. Within, I'd say, 90 seconds, we had our own large glasses of white wine. Looking back, I now realize that placing an order with the bartender was the first time I'd actually spoken to a crew member on board. I don't bring this up to highlight my enthusiasm for booze. It's an example of how digital the whole experience is designed to be. Until that moment, all of my questions had been answered by an app.
The two new apps released with the Quantum-class ships are called Cruise Planner and Royal iQ. You're supposed to download them before you even get on board. That's because the apps together act like your own personal concierge. You book dinner reservations, spa appointments, show tickets, and other activities, all though the apps. The apps also contain maps of the ship's decks and a neat little feature that lets you chat or call people who aren't on the ship. The idea of an app-powered vacation doesn't thrill me, personally, but I can see how some people would find it convenient.
All of this is handy until it's not. Again, Royal Caribbean just built this software, so it's bound to be buggy, and it was. For instance, at some point in my first 24 hours on the ship, the Royal iQ app thought that I'd gotten off the ship, so I couldn't use it any more. This wasn't a big deal, because the same features are available on touchscreens and tablets throughout the ship. Again, I'm sure some people find this convenient. But to be perfectly honest, I don't want to be tethered to my phone or staring at screens when I'm on vacation. I do that enough when I'm not.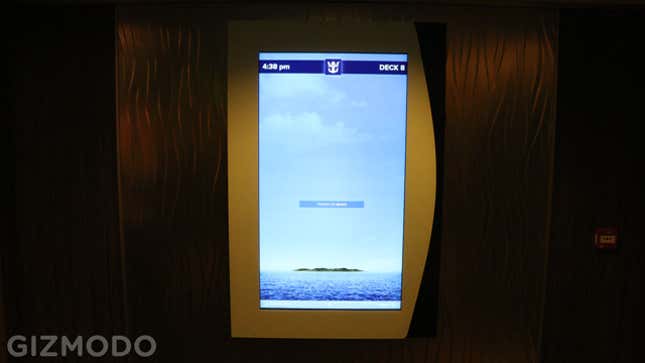 I wonder how often they disinfect these.
I seemed to be the exception, though. Clearly, plenty of people like staying connected on vacation. You couldn't turn around without seeing someone gazing at a tablet or taking a picture with their phone. This being a press trip, Royal Caribbean was also constantly encouraging us share our thoughts and photos—specifically selfies—on Facebook, Twitter, and Instagram.
There was a dumb hashtag: #SelfieAtSea. The crew even gave out "selfie sticks" to make the selfie-taking experience easier. Oddly enough, this very millennial-seeming stunt didn't really catch on with that demographic. The only people I saw using the selfie sticks were middle-aged women with phablets.
As we were wandering around with our drinks, my girlfriend spotted former teen star and Instagram celebrity Alexa PenaVega on board. We were actually in the same room when she took the two selfies on the top left. Evidently the she had started popularizing the hashtag on Quantum of the Sea's sister ship, Allure of the Seas, a few weeks ago, and was back to kindle the flame on Quantum. There's nothing wrong with Royal Caribbean inviting a B-list social media celeb on board. (Alexa PenaVega has nearly 300,000 followers.) The company really is trying real hard to connect with the younger generation. But we're not all selfie-taking Instagram addicts.
We finally found the ship's gondola parked over a pool bar towards the front of the ship. I was lucky enough to hop right on. The media badge I was wearing probably helped. The North Star rose up slowly, offering a broader and broader view of the deck beneath.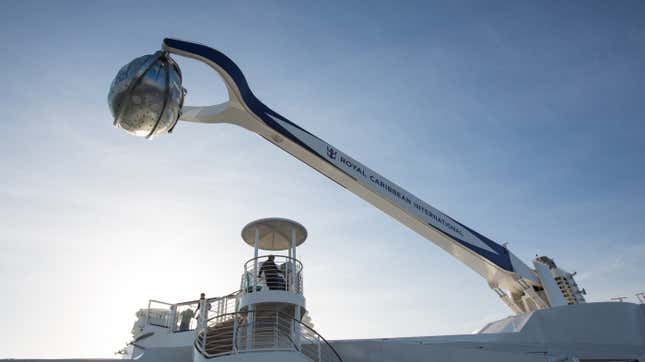 It's almost cooler to look at North Star from below than it is to ride the thing—especially if you're afraid of heights. (Image: Royal Caribbean)
This is a good example of how the ship repurposes land-borne technology for ocean-faring uses. If you've ever been on a gondola at a ski resort, the gondola on Quantum of the Seas will look very familiar. (In fact, the part that holds passengers was built by a ski gondola company.) The key difference is that at a ski resort, the gondola takes you to the top of the mountain that you ski down. On the ship, it just goes up, around, and back down. I didn't enjoy the ride as much as I feared the idea of being in a bubble hundreds of feet above the boat's deck. But I'm kind of a wimp.
My North Star experience lasted about ten minutes and felt a little underwhelming. I can't decide whether it improved my overall cruise experience, since my fear of heights came into play. The glass orb does look pretty cool on the deck, though.

Time works in weird ways on a cruise ship. In a sense, it's your primary form of currency. If you're a normal cruise ship customer, you've paid a sizable sum of money to ride on a large boat, probably to a fun destination. Our short cruise just did a big circle in the Atlantic. So-called "3 Night Quantum Sampler Cruises" on this ship start at $500 plus about $100 in taxes and fees. Let's just call it $200 a day. For that you get to stay in a room with a virtual balcony—which is not as cool as it sounds but is still a little bit cool—and no window. Your meals and some activities are inclusive. Everything else (read: booze) is not.
So maintaining this assumption that time is your currency, it's also important to emphasize that there is so. much. to. do. on this ship. Quantum of the Seas isn't the biggest cruise ship in the world, but it's possibly the most feature-rich. There's so much to do that it's almost stressful. FOMO (fear of missing out) quickly became the dominant theme.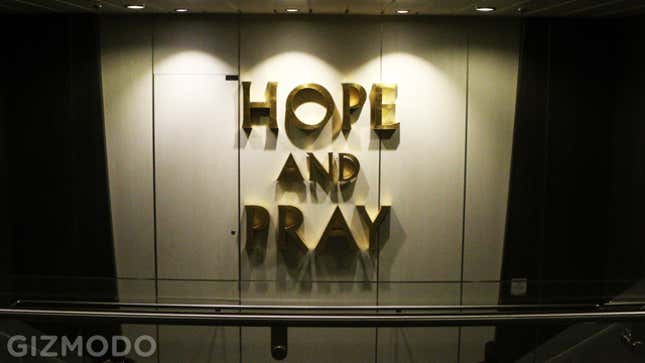 This artwork on display in one of the stairwells was also stressful—especially in the era of the Costa Concordia and the poop cruise.
We soon learned that planning was the only way to enjoy this big boat of fun without feeling like lost kittens at a lion convention. And the way Royal Caribbean's designed the Quantum experience, you're supposed to use apps for planning everything. Which meant that my next stop after the North star was my smartphone. I started thumbing through the app to see what was next.
Dinner reservations had already been made for us at The Grande, the ship's only formal dining room, but we wanted to do the black tie thing the second night so we tried to make reservations at Jamie's Italian, a Jamie Oliver restaurant. It was booked. We tried Wonderland, an Alice in Wonderland-themed restaurant that resembles your very worst Johnny Depp nightmares. Booked. We even tried another one of the main dining rooms. Booked.
According to the app, nearly every dinner option on the ship was booked solid. Frustrated, we actually walked over to that other main dining room and talked to a human. Despite the app's hard "NO," the hostess insisted that they could accommodate us. I sincerely wish we'd started this process by asking a human, but Royal Caribbean is clearly pushing for the app-driven cruise experience.
We ended up just going to The Grande that night anyways. It was excellent. The service was top notch, and the food was even better. The waiter kept my wine glass full, and I ate some snails, followed by lobster and lamb. This was the elegant, fun, and luxurious experience I'd always dreamed about! Ironically enough, I later realized that it was one of the only old-fashioned cruise ship experience I had on the ship.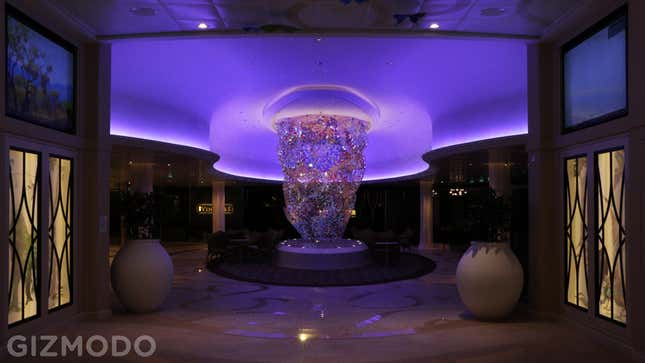 This sculpture is about the size of an SUV turned on its nose and looks much more beautiful in real-life.
That same evening, I had a terrific conversation with Adam Goldstein, the President and Chief Operating Officer of Royal Caribbean Cruises Ltd. He's been at the company for 26 years, so he's seen the industry transform as travel tastes have evolved. When I asked him what he was most excited about on this new class of ships he mentioned the innovative Wi-Fi system and the so-called "dynamic dining" experience.
The Wi-Fi system is not only innovative; it's also pretty damned fast. Goldstein told me that Royal Caribbean worked with a company called O3b Networks to connect the ship to satellites that flew in a lower orbit so that the signal wouldn't have to travel as far and, thus, yield higher upload and download speeds. O3b Networks is also one of those companies that's bringing fast Wi-Fi to developing countries. (The name "O3b" stands for "Other 3 billion.")
Indeed, in areas of the ship that got good coverage, I was getting near broadband speeds. My stateroom, unfortunately, was not one of those areas. Thank God I wasn't on the ship to sit in my room and surf the internet. The Wi-Fi worked well on my phone, as we walked around the decks. That was nice, but again, I kind of like not being connected at all times when I'm on vacation.
Perhaps because I grew up in a restaurant—like, I literally slept above the dining room—I was also pretty intrigued by Royal Caribbean's new dynamic dining. Traditionally, dining has been a very straightforward part of the cruise experience. You're assigned a dining room and a large table, and every night, you go there and eat with the same strangers.
Why have so many different options? Well, as Goldstein explained to me, that's what people want. So the company offers more choices at a premium. While five of the restaurants are complimentary, it'll cost you a little extra for the personalized experience. If you imagine that millenials are the target for Quantum of the Seas, you're looking at a customer base that's used to a highly individualized and connected lifestyle. Everything on the ship is designed not only to offer a unique experience but also an experience that's unique to you.
Meanwhile, you don't have to deal with inconveniences like slow Wi-Fi or nowhere to play X-Box or the lack of an indoor sky-diving facility. Quantum of the Seas is kept afloat by excess and extravagance. But it's your excess and extravagance.

The next morning is when I woke up a little lost with a hangover headache. I also felt sea sick. The ship was rocking only very slightly, but it was rocking. Thankfully, I'd thought ahead and took something for the nausea. This was the big day—my only full day at sea—and I had a plan, a plan that would kick in as soon as I found some coffee. And I did thanks to the paper itinerary that was left in my room the night before. As I mentioned earlier, mxy Royal iQ app had decided that I'd gotten off the ship.
At this point, my trip on board the Quantum of the Seas happened at a rapid-fire pace. The first stop was the indoor sky-diving facility, which Royal Caribbean calls RipCord by iFLY. The slightly grumpy Brit setting up the appointments told me I could get in the next class but would have to run back to my room to change my shoes in five minutes. That wasn't going to happen with the schedule I'd lined up, so I didn't get to indoor skydive.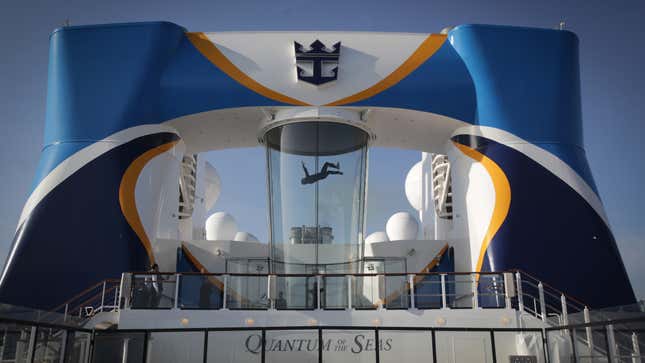 The last thing a seasick passenger wants is an anti-gravity type of experience, amirite? (Image: Royal Caribbean)
Honestly, the whole experience takes an hour, and it seemed like 59 of those 60 minutes were spent on training and suiting up. You only get a minute or so of indoor sky-diving. I'd seen these kinds of facilities on land before. They're just giant fans that can suspend a human body in mid-air. It's undeniably impressive that Royal Caribbean built one on a boat. But it's not necessarily an experience you couldn't find in, say, Las Vegas.
Right below the indoor sky-diving area is the surf simulator. The house-sized device basically spewed a layer of fast-moving water up a ramp, so you could glide over the surface with a boogie board or, presumably, a surfboard. It looked insanely fun, but it was also November in the North Atlantic. It was a cold time to be swimming around without a wetsuit. Then, of course, there was the line, which would surely cost me more precious time. So I skipped the surf simulator. I had to keep moving.
The bumper cars came next. They're part of an indoor entertainment area called SeaPlex. It's basically a big multipurpose basketball court. One hour they throw bumper cars onto the surface, the next it's roller skating time. (This is the first ship to ever offer bumper cars and roller skating, so there's that.) There's also a circus school, but I didn't see any clowns or acrobats. (You can apparently learn how to be a trapeze artist on board Quantum of the Seas, so there's that.) Upstairs are fun things like foosball and ping pong tables. There's even a dedicated—and well branded—Xbox area for the gamers. With so many options, I couldn't decide what to do. So I moved on. Time is money, and I'd imagine that all of these things require either lines or appointments on a full ship.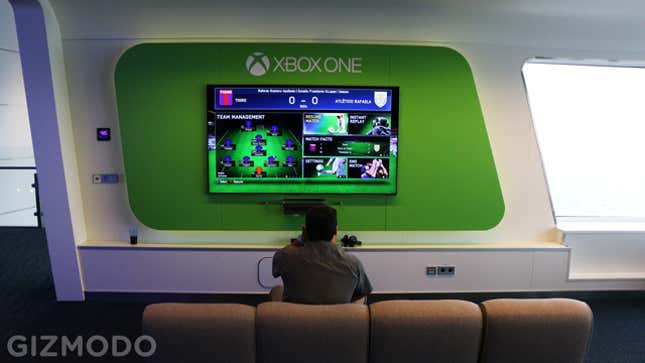 There are a total of four Xbox stations, all of which feel like a much larger version of those kiosks in the Walmart electronics section.
Heading aft, we found ourselves outside again and surrounded by cartoon characters sprinkled throughout a complex network of swimming pools. This is part of the DreamWorks Experience which is probably awesome for kids but not for me. We ducked back inside where there was another pool and some giant jacuzzis, and we promised we'd come back for a swim later. We didn't.
Further ahead was the solarium which actually ended up being my favorite part of the ship. The massive glass enclosure was near the spa and low-calorie restaurant, so there was lots of sunshine and an emphasis on healthy living. It was also full of plants so the air felt extra oxygen-rich. A set of terraced pools provided that soothing waterfall sound, and you couldn't turn around without bumping into some sort of relaxing furniture. We ended up in something I can only describe as a love egg and napped. It was the most blissful moment of the whole cruise.
It also happened to be the most technology-free.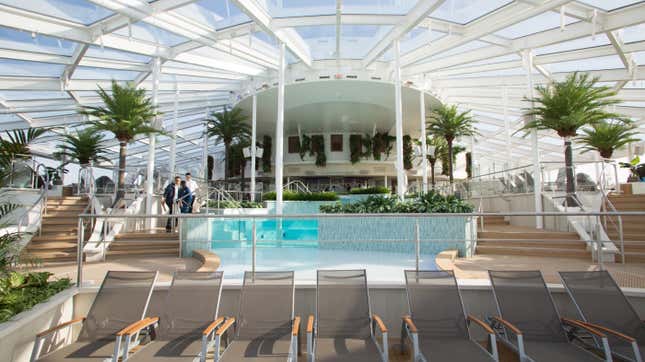 The Solarium sort of feels like a floating bio-dome, and it's great. Alexa PenaVega likes it too because this is where we saw her taking selfies. (Image: Royal Caribbean)
As it turned out, all of the technology-centric activities on the ship reminded me of my busy technology-centric life in New York. They required booking appointments, waiting in line, staring at screens—again, all of the things I was trying to get away from.

All told, I'd do it again, though I'd also have to save up for months to be able to afford the full-fledged Quantum of the Seas experience. While Royal Caribbean was sort of coy about how much everything costs, it's safe to say that the rock bottom $600 price tag for the shortest cruise is almost certainly lowballing the actual cost. If you want to eat in Jamie Oliver's restaurant, that'll be an extra $25. If you want to drink a cocktail, you either have to buy a drink package—up to $55 a day—or pay a la carte. If you want a massage, that'll be over $100. And if you're only on the ship for two nights, like I was, you'd better plan ahead if you want to see it all.
Royal Caribbean doesn't want you to see it all, though. Someone from the company joked that filling the ships with an overwhelming number of features was good for their business, because then people would have to take a second trip so they could see what they missed! I don't think actually think he was kidding.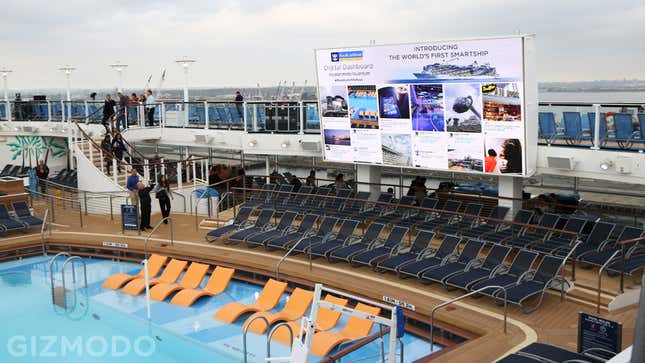 Who wouldn't want to watch read tweets while swimming?
At dinner on our last night we shared a table with Richard Fain, the chairman and CEO of Royal Caribbean Cruises Ltd. While he's held that job title since 1988, Fain has a background in cargo shipping, which struck me as funny for some reason. We also shared the table with two competing tech blogs, which also struck me as funny for some reason.
Fain wanted us to know that he was hip, though. He dropped personal trivia tidbits about driving a Tesla and living in a LEED-certified house. These high-tech, environmentally conscious practices lined up with the new Quantum-class of Royal Caribbean ships. (In addition to Quantum of the Seas and Allure of the Seas, a third ship called Ovation of the Seas is due to set sail next fall.) If the company's multibillion-dollar bet pays off, the futuristic ships will introduce an entirely new generation to the absurd experience that is cruising.

The rest of the cruise feels like an LED-lit blur. After saying our goodbyes at dinner, we wandered into Two70, a bar and lounge area by day and an acid-trip of a theater by night. As Royal Caribbean describes it, the theater features "the awe‑inspiring Vistarama and dancing Roboscreens® that are as much a part of the show as the performers." Now having seen the show I will say that is true. Imagine the movie Moulin Rouge but in real life plus robots. If it's spectacle you want, this is where to get it in heaping, gluttonous proportions.
Royal Caribbean reps described the show in Two70 as "Cirque de Soleil but with more technology" which is actually rather accurate. It's pretty fun, too.
The next thing I knew, I was at the Bionic Bar, home of the robotic bartender. Actually, I should say bartenders, because there are two of these fast-moving machines working in tandem underneath a ceiling of inverted bottles. They look like a little booze icicles.
In a way, this is what I was most interested to see. (I was also interested in the virtual balconies, but again, they turned out to be nothing more than big TVs turned sideways. The overall effect was a little hokey, but seeing a little bit of simulated daylight would be better than living without any glimpse at the outside world.)
The robotic bartenders are not unique to Quantum of the Seas. They're actually a product made by a company called Makr Shakr. At first glance, they look a lot like the robots used to build cars. The experience that Royal Caribbean's created elevates that design to another level, though. The cruise company has created, well, a bionic bar for its bionic ship.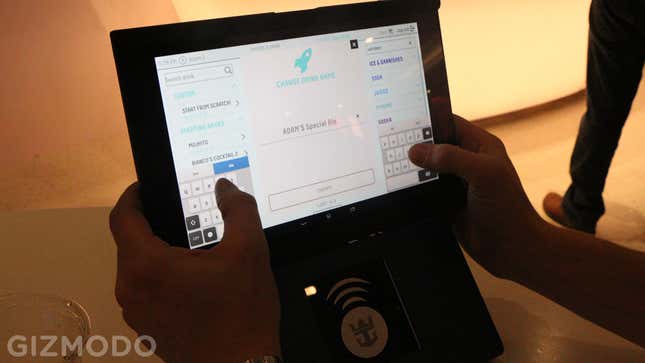 Just like answering emails!
The bar's interface is much easier to use than I expected. Several tables are equipped with tablets and RFID scanners. You have to scan your wristband or card, which verifies your age and connects to your credit card. Then you can choose from a list of recommended cocktails or design your own cocktail. The featured drink when I was there was Long Island Iced Tea which seemed silly. Because they contain so many ingredients, Long Island Iced Teas take a long time to make, especially when a robot is doing to pouring.
Regardless of your choice, your order gets put in a queue with everybody else's on a pretty slick display that's built into a mirror. The display also shows a wait time which, I'd noticed, tended to be about 15 minutes. We'd passed by the Bionic Bar a half dozen times; it's almost impossible to avoid it since it's tucked into a corner overlooking the town square area. It was always crowded. But that night, at that moment, we were just about the only ones there, and the wait was 0 minutes.
While I watched these spinning hulks of metal suck booze down from the ceiling, house music bumped in the background. The bar was dark, like many bars are, and everything was shiny with that slick-looking molded plastic. The only human working at the Bionic Bar was the woman who was wiping down the countertop. Unclaimed drinks sat in slots on the countertop in front of the robots. Before I knew it, one of the robots poured my attempt at a drink recipe into a plastic cup. I got up and fetched it. As I poured the bright green liquid into my face, I questioned my identity.
It's not as existential as it sounds. Like the show in the robot-filled theater, the Bionic Bar is spectacle for spectacle's sake. Almost every time we passed the bar there was a wait that would've exceeded the wait at any other bar on the ship. (We didn't wait longer than two minutes for a drink at any of the other human-tended bars we tried.) The Bionic Bar also pretty much specializes in high balls. When we tried anything more complex, it tasted a little bit off, somehow artificial. It sure did look cool though! Again, spectacle for spectacle's sake.
That always seemed like a very American idea to me, and I am an American. We're the home of Hollywood, the country of Disneyland, the inventors of the Super Bowl. If we can do anything, we can do spectacle. If you want it, come and get it.

The ship felt strangely familiar the next morning, like a dream I'd had once before. This makes good sense since I'd been wandering around the damned thing for two days. The feeling of leaving was uncanny, though, as if I'd go back to my normal life and not know how to live it. There were so many necessary things I'd have to do, so few frivolities. In a more relevant sense, there would be so many things I'd know how to do, with my sometimes old-fashioned habits in place.
I guess I got what I wanted, after all. I did have fun. I did make memories. I did all that stuff you're supposed to do on a cruise. And even though that endless list of features and high-tech experiences seemed overwhelming while I was trying to live them, that list exists in real life, too. I think I just have a lot more practice dealing with it.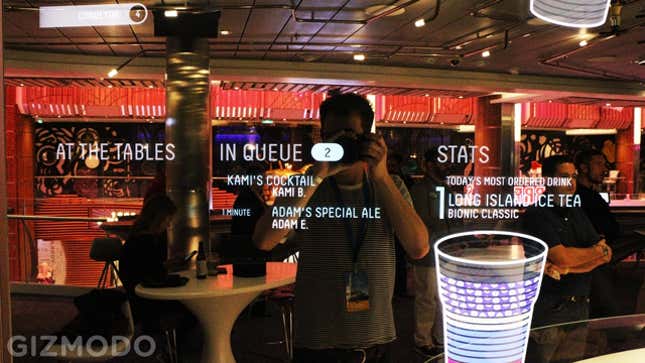 A blogger lost at sea.
Regardless, it's hard for me not to feel a little uneasy about the excess and extravagance. That's the best word I can think of to describe some of the technology on this ship: extravagant. Some people want this out of a vacation, and I get that. These people would very much enjoy Quantum of the Seas, if they can afford it.
But I couldn't get the image of that space-borne cruise ship in Wall-E out of my head: packs of people sitting back slurping drinks and awaiting entertainment while their bodies turned to mush. If only Royal Caribbean had given us Segways to negate the need for walking… An app would take care of everything else!

I was eager to get back to Brooklyn, back to my technology-fueled, landlubber lifestyle. The backwards-ness of it all struck me somewhere halfway through the Holland Tunnel, hundreds of feet below where the cruise started out. Here's this massive, half-century-old cruise ship company making a monumental effort to keep its industry afloat by redesigning the experience. (I'm allowed one pun, am I not?) Its biggest buoy is the giant floating gadget that is Quantum of the Seas. Its effort to appeal to a new generation of would-be cruisers is nothing short of valiant.
I am a member of that generation, and I'm not sure if I need a floating gadget for a vacation. That's not to say it's not novel or fun. In fact, I thought even the most absurd technological marvels on the ship—I can't decide if it's the indoor skydiving spot or the robotic bartender—seemed both neat and fun. It was all certainly pretty futuristic.
But maybe I want to escape all of that every once in a while. I want that secluded beach where there is no Wi-Fi signal and no place to charge my iPhone, rather than use my iPhone to schedule fun. I want to remember my disconnected life, where vacations led to revelations. I want to be that 11-year-old on the deck of a ship staring up at a rocket roaring across the sky, wondering what was next.
Top art by Tara Jacoby