When mutant melodrama Heroes returns to your TV later this month, we'll be reminded of the myriad ways mutant-making can go wrong. So how do you make a mutant and do it right? Here are 13 rules from the best.
Not every mutant can follow all of these rules - in fact, some are contradictory. But following several of them is sure to lead you to the creme de la creme of the differently-genomed.
1. Mutant powers should either be invisible or really obvious.
None of this "I have sunglasses and therefore I'm a mutant" crap. Either you should look totally human but be able to break the world with your mind (like Phoenix, River Tam, or Professor Xavier), or you should look like a goddamn freak of nature, at least some of the time (like Hulk, The Thing, or Mystique).
2. "Being able to take all the powers of other mutants" is a lame mutant power and should be eschewed.
I am not trying to single anybody out here, but mutant supervillain Sylar in Heroes violates this rule in an extreme fashion. The worst part is that one of Heroes' only compelling actors, Zachary Quinto, plays him with enough magnetism that you actually CARE about all the stupid plot twists that the writers are tormenting him with. Perhaps the dumbest thing about Sylar is that his power is stealing other mutant powers, but in ways that make no sense. Sometimes he needs to do something with their brains; sometimes he just needs to be near them. Even worse, though, is Sylar nemesis Peter Petrelli, who absorbs other mutant powers but only if he can use them in the service of emo passive-aggression.
G/O Media may get a commission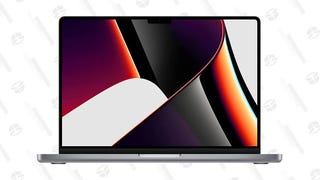 Save $300
2021 14" 1TB MacBook Pro
Put it this way. Who wasn't disappointed, when playing D&D, to discover that the most mega-powerful dragon, the polychromatic dragon, was so great just because he had all the breath weapons of the other dragons. Combining breath weapons isn't as cool as having your own uniquely powerful breath weapon. This rule can resolve that crucial issue.
3. Acceptable ways to make mutants include radiation, weird chemicals, and hybridization with aliens or other species.
Mutation origin tales may include the sudden appearance of an X-gene, aliens/future people meddling with the human genome, and mutation-inducing toxins (whether from pollution or lab experiments). Also high on the list are home-brewed substances like promycin that make you thrash around and choke and gag and then lie still - until you rise up all better and totally mutantastic. Spider-Man and Dr. Manhattan have classic mutant origins that stand up to the test of time. I don't care if it's borderline silly, being bitten by a radioactive spider is still totally awesome. And of course having your body deconstructed at the atomic level and then reconstituted as a Freaky Blue Atom-Manipulator Thing - obviously beyond cool. The movie Species offers us another fine example of mutant-making. Just hybridize a hot model with alien DNA you know nothing about, and presto! Killer morphing-spine babe.
What is the lesson to be learned here? All mutation should somehow involve a substance that plausibly or implausibly transforms the mutant's genome so that it goes from "recognizable creature" to "freaktastic badass." Which brings me to our next rule.
4. Magic is not a mutant power.
I think this goes without saying, but still it bears repeating. You might be tempted, upon watching Clive Barker's classic film Nightbreed, to say: "Hey, these toothy, tattooed, spinefaces living under the cemetary are mutants!" No. They are magical monsters and that is the end of the story. Also, do NOT be led astray by the work of Guillermo Tel Toro, who wonderfully and frustratingly confuses the category of mutant and magical all the time in his work. The giant humanoid cockroaches in Mimic? Pretty much totally mutants, with a "toxins in the subway" origin story, so that's OK. But the mutant vampires in Blade II? Look, nobody disputes that a mutant vampire is an awesome concept. But vampires (at least in Blade I) are magic, capable of summoning spirits by shooting blood into statues and crap like that. So are they really subject to the rules of genomics? I am dubious.
5. A mutant should have a trusty mutant steed.
Like rule 4, I believe this is a "no duh." But nevertheless you'd be surprised how often a cool mutant lacks some kind of awesome ship, robot, or dinosaur to ride on. Shouldn't a mutant guy have a mutant horse? After all, the mutants in I Am Legend had mutant dogs. Failing that, at least throw your mutant a flying surfboard thing like Green Goblin has.
6. No mutants without mad scientists, crazy doctors, demented engineers, freaky inventors, or bizarro physicists.
Your mutant needs a nemesis, and often that nemesis comes in the form of the mad scientist who created him. That's why the psychic mutants in Scanners go after the scientists who ran the defense labs where they were prodded - and where a drug to make more mutants is being secretly fed to pregnant women. It's why the replicants in Blade Runner go after their maker Tyrell. (And no the replicants are not androids - they're synthetic human mutants whose DNA has been messed with to make them strong and lead short lives.) Hell, it's why the monster killed Frankenstein and why Mr. Hyde had it in for Jekyll. Nobody wants to be an experiment, and that's why mutants fear the lab and hate the scientists who run them.
7. Mutation must be understood as painful, even when it is liberating.
One of the masterpieces of the mutant genre is the comic book Black Hole, about teenagers who suddenly find themselves turning into horrible mutants. They flee their suburb and hide in the forest, drinking and doing drugs, trying to escape the horror of their transforming bodies. While most stories about mutants focus on the superpower side of things, the best mutant tales always contain a little of the angst that lurks in every dark page of Black Hole. X-Men does this incredibly well, constantly reminding us that humans barely tolerate mutants. The thing about being a mutant is that it makes you different from the rest of your species - and often from your family too. And it's something biological and intrinsic to you that can't be changed (unless you're willing to undergo potentially fatal or crippling treatments from evil scientists - see rule 6). The reason why Heroes season 1 was so compelling was because it dealt with this issue, too. The mutants are alone, slowly becoming alienated from their friends and family as their powers develop. Seeing the mutants grapple with this, as well as watching them embrace their superpowers, made for some truly great television.
8. Mutant must be pitted against mutant. But more dangerous than mutants are those who refuse to mutate themselves.
Mutant stories often pit the integrationist mutants against the separatist mutants, which reminds us (sometimes embarrassingly) how much these tales are about minority groups of various kinds. But the biggest threat to mutants are the purists who believe in the sanctity of the genome. Usually, however, it turns out that these "don't mess with the genome" types are really jsut genome supremacists like the society in Gattaca, where anyone whose genome deviates from the superpowered norm is trash. Or they're like the Gaia worshippers in Paul McAuley's novel The Quiet War, who proclaim that nobody should alter the human genome, but then build genetically-enhanced supersoldiers in order to stop people in the outer planet colonies from re-engineering their bodies. In other words: It always turns out that the people who are anti-mutant are really just DNA fascists who don't like the idea of anybody controlling the genome but them.
9. All mutants are transhuman.
When transhumanists like Ray Kurzweil or R.U. Sirius talk about humans evolving into something better, what they mean is that we will mutate into creatures who are not recognizably human. Of course that doesn't mean we won't be humanists.
10. Mutation is inextricable from Darwinism and evolutionary theory. Therefore it must always be a condition that science can understand and (at least try to) deal with.
Maybe scientists never really show up in the story, which is the case in amazing mutant movie Teeth. But we still know that there is a scientific explanation for why our hero has superpowerd fangs in her vagina that will defend against date rapes and sexual abuse. There is a giant nuclear power plant right behind her house. My point is, a good mutant exists in a Darwinian universe. A mutant without science is like a dragon without a breath weapon. It just isn't good form.
11. A cool mutation can be inherited from your parents. A really cool mutation can be spread virally.
The mutants in Push or Octavia Butler's Wild Seed series are pretty damn awesome, but their mutations are always contained within families. So the mutations don't really spread very often - especially in Wild Seed, where there is actually a supermutant who is breeding the mutants with each other over dozens of generations. In other words, these mutants don't signal the transformation of the whole human race into something posthuman. They are almost like a separate minority species.
More intriguing and explosive are the mutations that jump from host to host virally. They might spread literally via a virus, as in I Am Legend, or be caused by some sudden genomic shift in response to environmental conditions (this is what happens in Greg Bear's novel Darwin's Radio, but also is hinted at in Heroes ). Another classic way to spread mutations virally is to create a mutation serum like promicin from The 4400, or like whatever it is that the family was dosed with in Firestarter. What makes viral mutations more exciting is that they have the potential to change the entire world relatively quickly. You don't have to wait for the mutation to spread through the population via natural selection or some other slow-ass evolutionary method.
12. Every mutant should be experimented upon, or should experiment on herself.
Though rule 6 states that mutants fear the lab, they are also drawn to it. If they were made in a lab, perhaps they can find a way to control their powers in the lab too! Some of the most iconic scenes in mutant tales show our crazed, mutating hero desperately trying to cook up a cure in his secret research facility, from the Invisible Man creating a DiY lab in the boarding house where he lives, to Jeff Brundle in Cronenberg's The Fly zooming between his teleportation pods to fix his hybrid DNA. If only they could get their hands on one more dose, one fresh sample of human brains, or one more cube of hyperzincmeritallium, at last these mutant experimenters could control the outcome of their experiments!
13. Being sexy is not a mutant power, though mutants are sexy.
All those "makes men fight over her" mutant powers? No, those are not good. They are not mutant powers. And I'm talking to you, Joss Whedon with the Runaways in the nineteenth century running into the lass with the "pheromone mutant power" thing. Yuck. No.
The thing is, mutants don't need sexual appeal to be a mutant power because all mutant powers make you sexier. Even the nerdy, flightless bird kid in New X-Men found a cute girlfriend. And let's face it: Most mutants just happen to look like Summer Glau and Zachary Quinto. The X-gene regulates the expression of the "hotness" gene, so the two are ever-intertwined.